It would be a marvellous coincidence if the next pretender to the English throne just happened to have a name that was somehow cake-related. Lambert Simnel's father was a baker and, as we have seen, simnel was, at first, the finest of fine flour, used to bake bread fit for a King, and then became the name of a kind of celebratory cake.

So, when Perkin Warbeck turned up, claiming to the true-born King of England, is it possible that his name is a variation on parkin, the dark, spicy cake that is still popular in the north of England?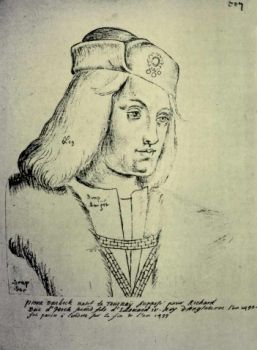 Perkin Warbeck
Sadly, it isn't so; his name is a diminutive form of Peterkin, which is in turn a diminutive form of Peter. When we are looking at a person who deliberately set out to deceive other people, it is reasonable to expect that they have attempted to cover their tracks and hide their true identity. So, from what we can piece together from what remains, it seems likely that Perkin Warbeck was called Pierrequin de Werebecque, or Piers Osbeck, born in about 1474, to John Osbeck and Katharine de Faro, at Tournay, Flanders (now Tournai in modern Belgium).
Paix de Lizancour - Perkin faux Duc D'York - 1752
He travelled in the Low Countries during his youth and, as apprentice to a Breton merchant, Pregent Meno, he went to Ireland in 1491, where his physical resemblance to the Plantagenets caused many to claim that he was, firstly, Edward, Earl of Warwick, then the illegitimate son of Richard III, and lastly Richard, Duke of York, the youngest son of King Edward IV.
The Court of King Edward IV
When Edward IV died, in 1483, his two surviving sons, Edward and Richard, then aged 12 and 9, were lodged in the Tower of London, under the protection of their uncle, Richard, Duke of Gloucester. The eldest boy, Edward, was King Edward V (although he was never crowned) but after the legitimacy of his father's marriage was rendered invalid, his claim to the throne was overturned and his uncle Richard claimed the crown and was declared King Richard III.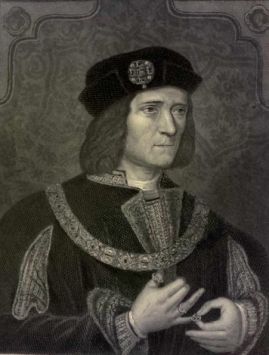 King Richard III
The two princes were seen less and less, and rumours spread that someone, possibly King Richard, had had them murdered. However, other rumours said that one, or both, princes had managed to escape and had been spirited away to Europe, quite possibly to the court of their aunt, Margaret of Burgundy. Richard III was only king for two years, as he was defeated and killed at the Battle of Bosworth, August 22nd 1485, by the forces of Henry Tudor, who became King Henry VII.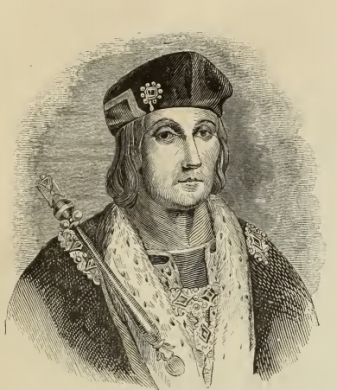 King Henry VII
Margaret of Burgundy, who was the sister of Richard III, viewed Henry as a usurper and supported plans to have him overthrown. When news of the possibility that Richard, her youngest nephew, was still alive, the chance of restoring the Yorkists to the throne would have suited her purposes admirably. We'll never know if she truly believed that Warbeck was her nephew, or if he was simply a convenient means of removing the Lancastrian Tudors from the throne, but Margaret supported the claim.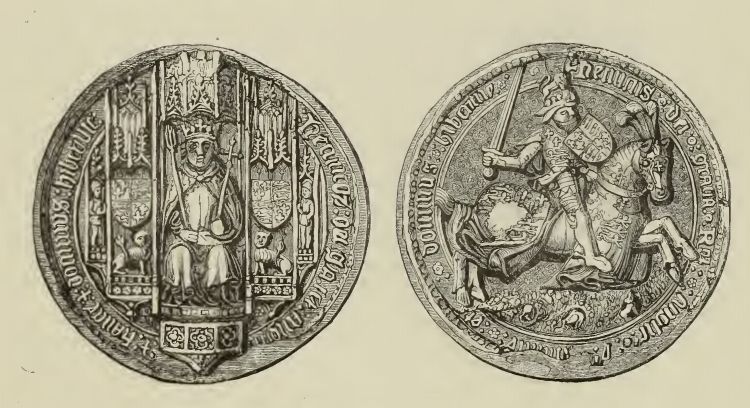 The Great Seal of King Henry VII
This support drew further support from other European nobles, who recognised Warbeck's claim to be the Duke of York, and in July 1495, with funds supplied by Margaret and Maximillian I, King of the Romans, a small, motley band of vagabonds landed at Deal, in Kent. The locals attacked and killed at least 150 of the invaders and captured maybe another 80 and Warbeck, who feared a trap and had not yet disembarked from his vessel, sailed away and headed for Ireland.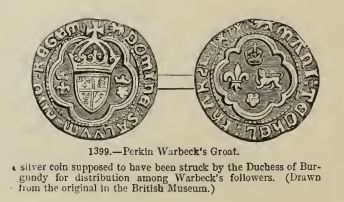 Perkin Warbeck's Groat
With support from Maurice FitzGerald, Earl of Desmond, he laid siege to Waterford but was repulsed and departed next for Scotland, where King James IV received him favourably, and Warbeck was married to Lady Catherine Gordon, a distant cousin of James's. Plans were made for an invasion of England from the north but it amounted to little more than just another border raid that lasted a mere four days, and the little army of 1,400 withdrew back into Scotland. Warbeck opposed the cruelty of James's men to his prospective subjects, although it was clear that the northern English had little regard for this new claimant to their loyalties.
King Henry VII
James supplied Warbeck with a ship and a crew and he sailed once more for Waterford, Ireland, but was chased away by four ships manned by the Irish. Warbeck then sailed for Cornwall, where the people were already involved in a rebellion against the crown, due to what they saw as excessive taxation imposed by Henry VII to fund his war with Scotland. He landed at Whitesand Bay, west of Plymouth, with two ships and about 120 followers, on September 7th 1497, and at the head of a hastily recruited army of about 6,000 men, Warbeck marched towards Exeter, leaving his wife at St Michael's Mount.
St Michael's Mount
At Bodmin, he was declared King Richard IV of England, but his rag-tag host were repelled from the walls of Exeter and turned instead for Taunton. Henry's disciplined army marched to meet them, under command of Lord Daubeney, the Lord Chamberlain, with the King not far behind, and the Lord Steward sent to secure the seaports to prevent the usurper escaping again. When Warbeck heard that an army was waiting at Glastonbury, a mere twenty miles away, he and his captains slipped away at midnight on September 21st, leaving the army without leaders, and then Warbeck himself abandoned his officers and ran for sanctuary at Beaulieu Abbey, in Hampshire.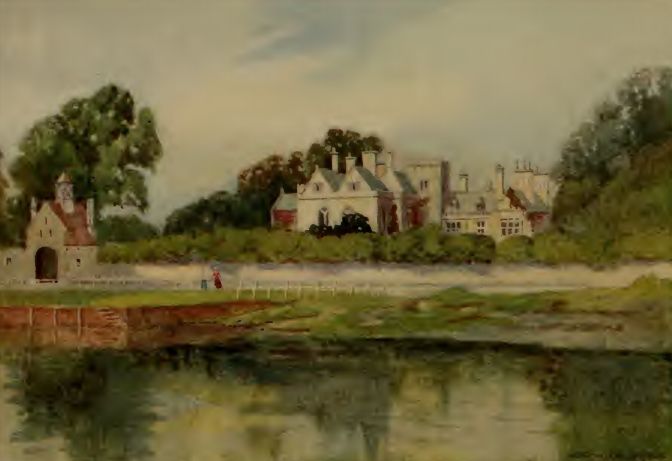 The Abbot's House, Beaulieu Abbey
Here, he surrendered to the King and was brought before Henry VII at Taunton, where he confessed to being Piers Osbeck of Flanders (although it is possible that this confession was coerced), and then taken next to Exeter and from there to London, where he was paraded through the streets.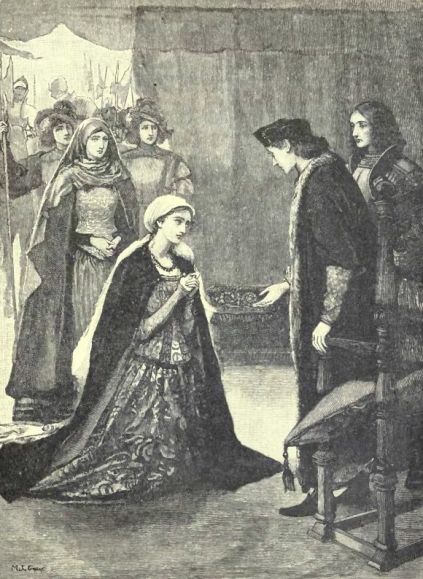 King Henry VII receives Lady Catherine Gordon
Henry received Lady Gordon, Warbeck's wife, and she was admitted into the court, where she became friends with the Queen. Warbeck himself was treated well by Henry and allowed the freedom of the Tower of London; it may be that the King was convinced that Warbeck was an illegitimate son of Edward IV, who had been in Flanders at about the time of Warbeck's birth, and he was treated accordingly. However, the constant surveillance took its toll and after about a year's confinement, on June 8th 1498, Warbeck escaped but only made it as far as Sheen, near Richmond, where the Prior granted him sanctuary and would not deliver him to the King until he received assurances that he would not be harmed. Warbeck was made to spend two days in the stocks, as a punishment, at Westminster and Cheapside, and was made to read out a confession as to his real identity, before he was returned to the Tower.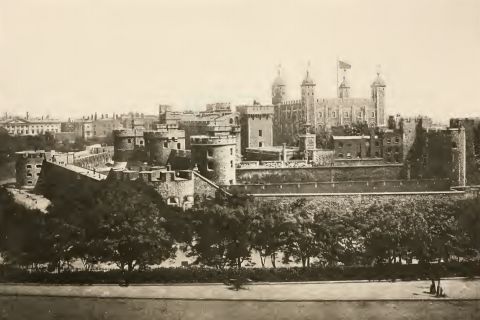 The Tower of London
However, his position was no longer safe, as it is thought that King Ferdinand II of Spain would not sanction the marriage of his daughter, Catherine of Aragon, to Henry VII's son and heir, Arthur, whilst 'one doubtful drop of Royal blood' remained and urged Henry to remove all threats, and when a plot to capture the Tower of London was discovered, as part of a plot to release Edward, Earl of Warwick, (whom Lambert Simnel had claimed to be), and place him on the throne, Warbeck and Warwick were both charged with treason.
There is no record of the trial, but on November 23rd 1499, a guilty Perkin Warbeck was taken on a hurdle from the Tower to Tyburn, where he was hanged and quartered. Five days later, on November 28th, Edward, Earl of Warwick, was taken to Tower Hill and beheaded – he was twenty-four years old, had been imprisoned since he was only ten, and was deemed to be utterly unworldly and insensible to the plotting carried on in his name. Their crimes were a pretext to remove the last Yorkist threats to the Tudor dynasty founded by Henry VII.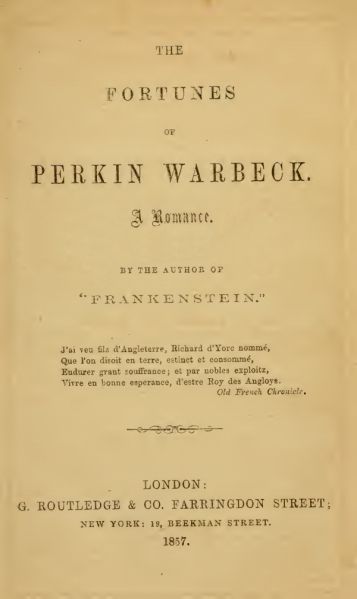 Mary Shelley - The Fortunes of Perkin Warbeck - 1830 (1857 ed.)
Mary Wollstonecraft Shelley, author of Frankenstein, published a triple-decker novel in 1830, called The Fortunes of Perkin Warbeck, taking the position that Warbeck really was Richard, Duke of York, who had escaped the Tower as a boy and who was an innocent drawn into political intrigues through the manipulations of more Machiavellian puppet masters.