It is a great mistake to imagine the Wars of the Roses as some latter-day Roses cricket match, with the Red Rose county of Lancashire and the White Rose county of Yorkshire fighting it out for victory. The real War of the Roses had little to do with the neat geographical distinctions between the opponents and everything to do with the noble Houses of Lancaster and York. In fact, many noble families in Lancashire allied themselves to the Yorkist faction and, similarly, many Yorkshire families fought on the Lancastrian side, as England was riven by political, financial and social in-fighting as the Hundred Years War with France came to an end.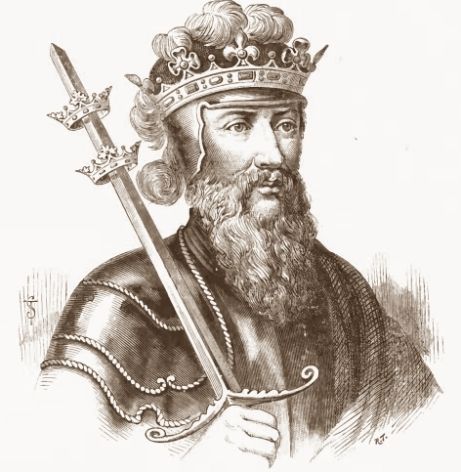 King Edward III
The leading contenders for the throne of England came from the Plantagenet Kings, notably the offspring of Edward III. His son, Edward the Black Prince, died one year before his father and the crown passed to the Black Prince's son, who became King Richard II.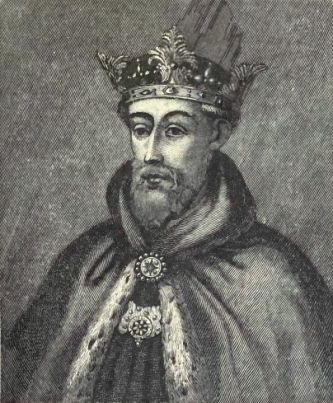 John of Gaunt
King Edward III's third son, John of Gaunt, had a son, Henry Bolingbroke, who eventually deposed his cousin, Richard II, and declared himself King Henry IV, the first of the Lancastrian Kings of England.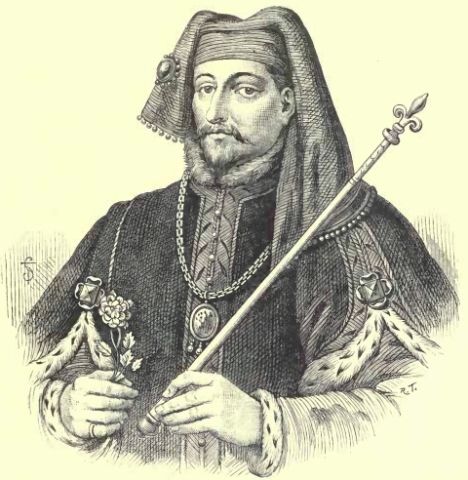 King Henry IV
His son, Henry V, carried on the Lancastrian line, and he was followed by his infant son, Henry VI.
King Henry V
During, and following, the regency of Henry VI, the Yorkist side of the Plantagenet family gained influence and power, and Henry was deposed, twice, by Edward IV, who was the great-grandson of King Edward III. Edward IV was then followed by his brother, Richard III, who has had his reputation blackened by later historians.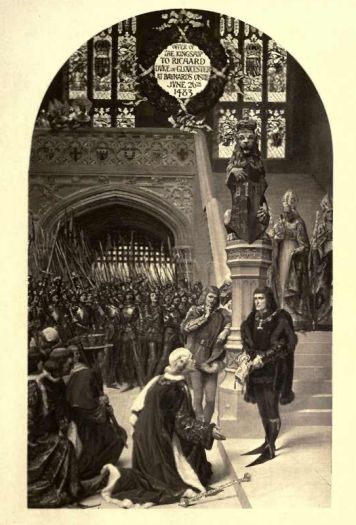 Richard III accepts the crown
He is said to have had a hand in the murder of Henry VI, his brothers Edward IV and George, Duke of Clarence, his nephews King Edward V and Richard, Duke of York, and numerous others who stood in his way to the throne. As you will appreciate from all this, the family threads of the later Plantagenets were very tangled, and just as Richard III thought that he might form them into a single strand, another distant relative made a bid for the crown.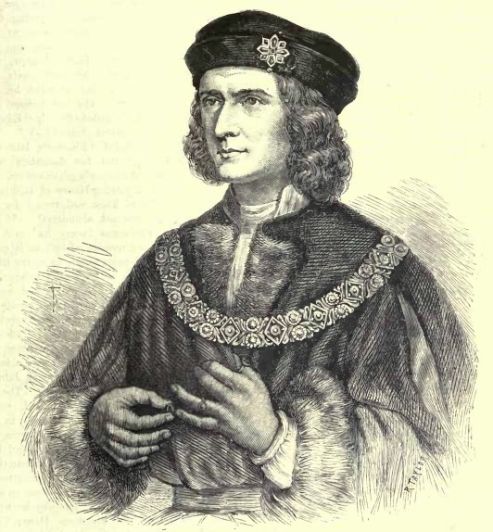 King Richard III
Henry of Richmond, was an unlikely contender, his father had died three months before he was born, his claim came through his mother, Margaret Beaufort, who was thirteen when he was born, and was a great-granddaughter of John of Gaunt's third marriage, by children who had been born out of wedlock but later legitimised by Richard II, (who had added a clause of doubtful legality denying that branch of the family any claims of succession). It was a tenuous, but nonetheless, valid relationship, strengthened a little by links to the Welsh Tudors. Young Richmond spent most of his life in exile, in France and Brittany, where his mother, who had remarried into the Yorkist Stanley family, promoted his claim to the throne.
Elizabeth of York
In 1483, Richmond was betrothed to Elizabeth of York, their marriage would unite the Yorkist and Lancastrian lines of the family. In October, an unsuccessful invasion was planned from Brittany but terrible weather turned them back. Richard III was aware of the plans against him and took steps to counter Richmond's claims, but his own dynastic dreams received a fatal blow when Edward, his ten year old son, died unexpectedly.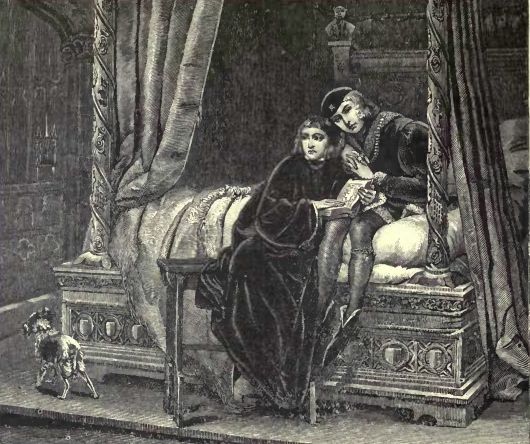 Princes in the Tower
Richard had had plans for this son Richard to marry Elizabeth of York, daughter of Edward IV, sister of the Princes in the Tower and his own niece; now he considered murdering his wife, Anne Neville, (widow of Edward, son of Henry VI) in order to marry her himself, thus thwarting Richmond's plans of uniting the Yorkist and Lancastrian branches of the family.
Sailing for England
On August 1st 1485, Richmond and an army of exiles, Scots and French mercenaries sailed from Harfleur and landed at Mill Bay, near Milford Haven, Pembrokeshire, seven days later. His Welsh family connections brought him support from the Welsh, and others joined him from the north, as they marched east, through Wales and into Leicestershire, where Richard was waiting with a massed army (although Stanley alone did not join him, claiming to be suffering from the sweating sickness).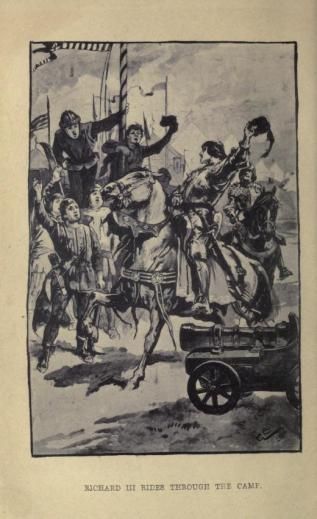 Richard III rides out
On August 21st, Richard rode out from Leicester to Bosworth, two miles away, at the head of 30,000 men, including the finest cavalry in Europe; Richmond was at Atherstone, his forces barely half the size of Richard's. Here he met Stanley, who assured him of support although he could not act at once, as Richard was holding his son, Lord Strange, as a virtual hostage to ensure his loyalty.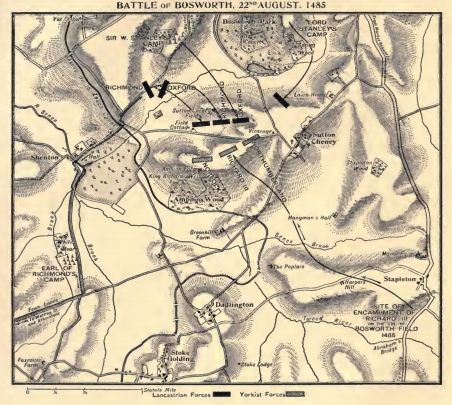 Plan of Battle of Bosworth
The following day, August 22nd, Richmond and Richard engaged on Bosworth Field, the battle opening with the archers on each side firing into their enemy's troops. Richard led the central body of his army forward himself, clad in the same burnished armour he had worn at the Battle of Tewkesbury and wearing a royal circlet on his helmet. He was flanked on each side by men of the Stanley contingent and these, on a sign, began to attack Richard's men.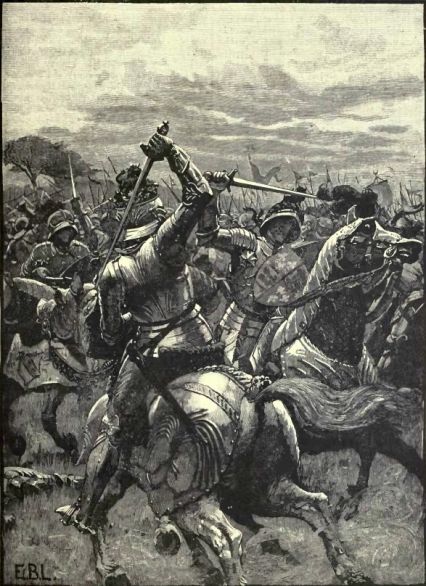 Battle of Bosworth Field
Richard, seeing that the Duke of Northumberland was also holding back, led a direct attack on Richmond's position; he made three charges in an attempt to kill Richmond, he killed Richmond's standard-bearer, Sir William Brandon, with his own hands, struck Sir John Cheyney from his horse and launched himself on Richmond himself, when the Stanleys arrived, surrounded him and hacked him down. He fought, it was said, with tremendous spirit, courage and strength, distinguishing himself in battle. It was said that the circlet that Richard wore was hidden in a hawthorn bush by a soldier, but was recovered and given to Lord Stanley, who crowned Richmond as King Henry VII on the battlefield of Bosworth Field.
King Henry VII
Although there followed other, smaller, engagements (Stoke Field, for example), Bosworth was effectively the final battle of the War of the Roses.
What happened next to Richard III forms a fascinating codicil to the story.