And, speaking of Simnel, it is a tale related in these parts that he was called Simnel because his father was a baker of bread. Truth be known, we have no idea what his real name was, and some say his father was a shoemaker or a maker of church organs instead, but he is still remembered by the name of Lambert Simnel.
When he was about ten years old, an Oxford-trained priest, Richard Simon (or a variant thereof, including Symonds and Symons), took the boy under his wing and trained him in arts, manners, etiquette and the procedures of court. Simon, with an eye on gaining the archbishopric of Canterbury, had a scheme to pass Simnel off as Richard, Duke of York, son of King Edward IV, and the eldest of the tragic Little Princes in the Tower (more of whom another day), but he changed his plans and decided that Simnel bore a passing resemblance to Edward, Earl of Warwick, a claimant to the English throne who, it was rumoured, had recently died in the Tower of London.
King Henry VII
During the Wars of the Roses, there were any number of claimants to the throne, as the fortunes of the Houses of Lancaster and York waxed and waned, and Simon was more than likely working in connivance with the Yorkist faction of John de la Pole, the Earl of Lincoln, who was a nephew of King Edward IV.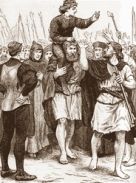 Lambert Simnel carried by Sir William D'Arcy of Platten
The Yorkists had sympathisers in Ireland, and Simon took Simnel over the water early in 1487, where powerful allies rallied around him and on May 24th, he was crowned Edward VI, in Dublin Cathedral, and messages were sent to Margaret, Duchess of Burgundy, who was sister of Edward IV and a vehement enemy of King Henry VII, whom she regarded as a low-born Lancastrian upstart who had stolen the crown from the House of York.
Margaret, Duchess of Burgundy
She was likely aware of the deception but nonetheless she responded favourably and sent 2,000 German mercenaries, under the command of a formidable captain, Martin Schwartz, who were also accompanied by Lincoln and Lord Lovell, another prominent Yorkist.
Piel Castle
In June 1487, this force, bolstered by the Yorkist Irish and including the Earl of Kildare, sailed for England and landed first on Piel Island, Lancashire, then called Fouldrey or Fowdrey, and made their way to the mainland at Ulverston, at a place called, purely by coincidence, Schwartz Moor.
The Pile of Fouldrey Castle
Here they met Sir Thomas Broughton, a wealthy Furness gentleman with family ties stretching back to Anglo-Saxon times, but the expected support from the people of Lancashire was not forthcoming and so the army headed east, over the Pennines and into Yorkshire. The forced march covered 200 miles in five days, and the army swelled to about 8,000 men; in a night fight on June 10th, 2,000 of them engaged a force of only 400 Lancastrians at Bramham Moor, near Tadcaster, and utterly defeated them. Lovell then swung his army south, heading for Newark, and fighting a series of skirmishes as they advanced through Sherwood Forest.
King Henry VII
In the meantime, King Henry VII, well aware of the insurrection, had imprisoned the Queen's Mother in a convent at Bermondsey and arranged for Warwick, who was still alive, to be brought from the Tower to St Paul's and publicly displayed to the population, which really ought to have put an end to the claims of the supporters of Lambert Simnel. Henry marched north at the head of his army, through Coventry and Leicester to Nottingham, and unbelievably got lost on their way to Newark, with many soldiers deserting the ranks.
They found five guides in Ratcliff-on-Trent, and were led to the village of Stoke, (not to be confused with Stoke-on-Trent, Staffordshire), where Henry's army, under command of the Earl of Oxford engaged the invasion force ranged against them on the morning of June 16th 1487. Lincoln's troops held the strategic advantage, on a hill and surrounded on three sides by the river Trent but inexplicably they descended and took the fight to the King. The battle raged for three or four hours and was a particularly bloody affair, even by the standards of the fifteenth century; the Irish were under-armoured and ill-equipped, and were slowly but comprehensively slaughtered. Schwartz's German mercenaries made a determined, obstinate stand but they too were butchered, almost to a man.
The Last Stand of Schwartz and his Mercenaries
The whole insurgent army seemed determined to make a stand, expecting little mercy if they yielded, and over four thousand of them were killed, together with over two thousand of the King's army. All of Simnel's commanders bar one died in the Battle of Stoke Field; Lincoln, Kildare, Schwartz, Broughton were all killed and only Lovell escaped, seen swimming his horse across the Trent and making his way some said, eventually, to Scotland.
Others claimed he had drowned in the Trent, and a romantic story was told that two hundred years later, at the family house of Minster Lovel, a secret underground chamber was discovered when a new chimney was being built. In the room was the skeleton of a man, seated at a table, with a mass book, paper and pen laid out, and dressed in rich, old-fashioned clothing; as air entered the room, the skeleton slowly crumbled into dust. Was it Lovell? We'll never know. Is it true? We'll never know.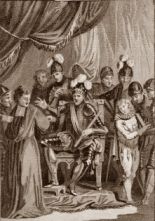 Simnel and Simon before Henry VII
The Battle of Stoke Field was the last time Yorkist and Lancastrian armies fought each other, and so can be called the final battle of the War of the Roses. Lambert Simnel and Richard Simon were taken prisoner after the bloodshed, and King Henry VII showed admirable mercy to the boy, thinking him without blame and simply led astray by the machinations of other more devious plotters; he gave him a job as a turn-spit in the Royal kitchens at Westminster, and through good conduct, he was finally promoted to the position of the King's falconer. The priest Simon was not so lucky. He was thrown into the dungeon and forgotten about – we can only assume he eventually died there.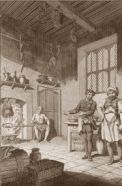 Simnel the Turn-Spit
Tomorrow - what is it with all these pretenders?