She had with her letters of introduction, written for her by Ralph Waldo Emerson (amongst others), and in June 1853 she called on the famous writer, historian and philosopher Thomas Carlyle at his home in Cheyne Row, Chelsea. Carlyle and his wife received Bacon with affection and kindness although there are hints that they were also patronisingly indulging their visitor and her queer notions for their own amusement.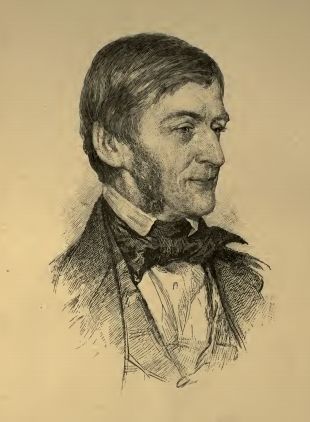 Ralph Waldo Emerson
Emerson had written to Carlyle that Miss Bacon,
"… has a private history that entitles her to high respect,"
"As for Miss Bacon, we find her, with her modest shy dignity, with her solid character and strange enterprise, a real acquisition," adding, "I have not in my life seen anything so tragically quixotic as her Shakspeare enterprise: alas, alas, there can be nothing but sorrow, toil, and utter disappointment in it for her."
However, there is a different tone in a letter Carlyle wrote to his brother,
"For the present, we have (occasionally) a Yankee Lady, sent by Emerson, who has discovered that the 'Man Shakespear' is a Myth, and did not write those Plays which bear his name, which were on the contrary written by a 'Secret Association' (names unknown): she has actually come to England for the purpose of examining that, and if possible, proving it, from the British Museum and other sources of evidence. Ach Gott!—."
Bacon herself, in a letter to her sister, provides more light on their meeting,
"Do you mean to say,' so and so, said Mr. Carlyle, with his strong emphasis; and I said that I did; and they both looked at me with staring eyes, speechless for want of words in which to convey their sense of my audacity. At length Mr. Carlyle came down on me with such a volley. I did not mind it the least. I told him he did not know what was in the Plays if he said that, and no one could know who believed that that booby wrote them. It was then that he began to shriek. You could have heard him a mile."
If nothing else, it's nice to imagine that dour Scot Carlyle being reduced to shrieking.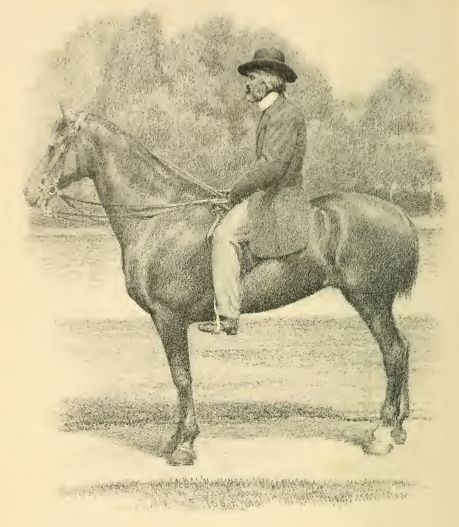 Thomas Carlyle sitting on a horse.
After a stay in London, Bacon moved to St Albans – after all, Sir Francis had been Viscount St Albans. The money allotted to her by her American patrons had been intended to last for the summer of 1853 but Delia, used to poverty, managed to spin it out long enough to last for two years, as she toiled away on her book, and when she couldn't afford to light a fire, she wrote propped up in her bed in order to keep warm. In November 1854, the cold drove her from St Albans back to London,
'… it was uniformly colder in my room than it was out of doors in the daytime.'
The Carlyles found her lodgings and provided her with meals, and Carlyle advised her on English publishers, offering, if needed, to write an introduction for her book, whereas Emerson offered to deal with the American part of the enterprise. However, there were problems, as Bacon was dealing with one publisher through Emerson and dealing with another directly herself.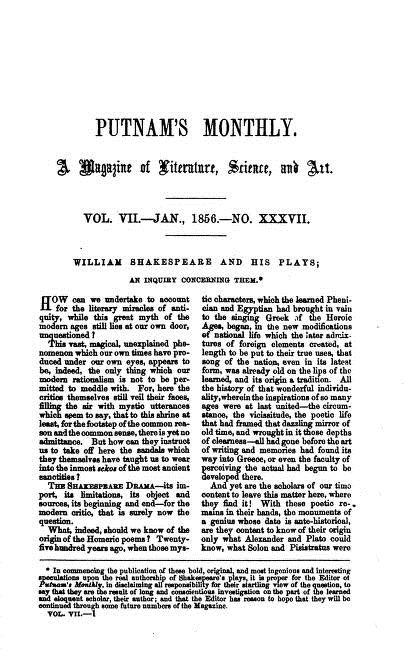 Delia Bacon - William Shakespeare and his Plays - Puttnam's Monthly - January 1856
This confusion resulted in an article appearing in Puttnam's Monthly as 'William Shakespeare and his Plays: An Inquiry Concerning Them' in January 1856, for which she received a much-needed eighteen pounds fee, but it caused the American publisher that Emerson had negotiated with to publish her work as a book to withdraw that offer. To issue her book as a series of magazine articles instead was not really what anyone had intended, and it was Bacon's lack of business sense that almost scuppered everything. The position wasn't helped when London publishers began to write polite letters of rejection to Bacon, all of them seemingly unwilling to publish any criticism of the National Bard.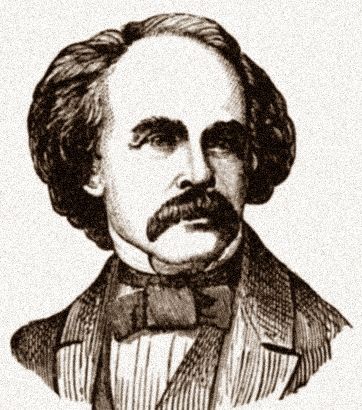 Nathaniel Hawthorne
Help came through Nathaniel Hawthorne, the extremely famous and respected American author, who was also the Consul to Liverpool, a lucrative but unappealing posting. Bacon wrote a modest letter to Hawthorne (she was a close friend of Miss Elizabeth Peabody, the sister of Mrs Hawthorne), asking for counsel and assistance and Hawthorne's sense of honour meant that he could not refuse her appeal, regardless of the cost in time and effort to himself. His help came at precisely the right time for Bacon, as Emerson began to express doubts of ever finding an American publisher who would be willing to undertake the production of her book, and who then added to her troubles by informing her that the copy of her manuscript in America had been mislaid.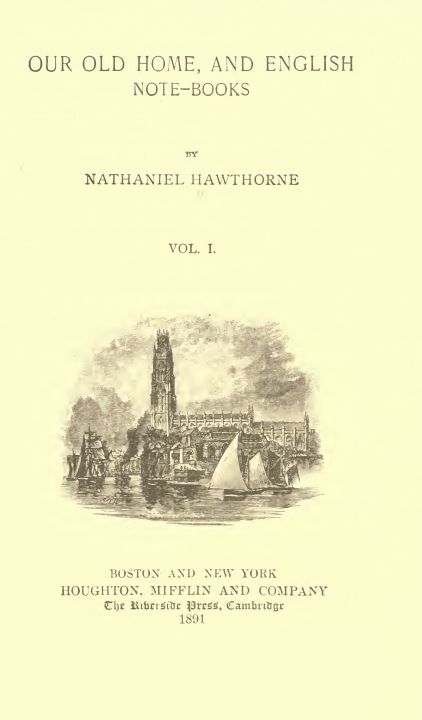 Nathaniel Hawthorne - Our Old Home - 1863 (1891 ed).
In his collections taken from his English notebooks and published as Our Old Home, Nathaniel Hawthorne describes the single meeting he had with Bacon, in London in late July 1856. The chapter is called Recollections of a Gifted Woman, and in it Hawthorne describes a tall, elegant middle-aged woman, striking now and 'exceedingly attractive once', who speaks friendlily and openly about her theories. Almost at once, Hawthorne realises that she has become a 'monomaniac', and that her belief in her ideas,
"… had completely thrown her off her balance."
She placed a hand on a book of Francis Bacon's letters and confides how she has discovered within them a key, secret but definite and precise instructions on how to find a will and other documents that were concealed in a hollow space in the under-surface of Shakespeare's gravestone, which would provide undeniable proof of her theories. In a low, quiet tone, she went on to explain how Providence was guiding and providing for her; she had been led to her current lodgings and her kindly landlord and landlady. Hawthorne himself had been provided for her, a sympathetic, American author with the power experience and influence to aid her, just at the precise time when she needed a negotiator with the publishers. He bit his tongue, hoping that there remained in her New England head enough common sense to spare her from her from the worst of her current bewilderment.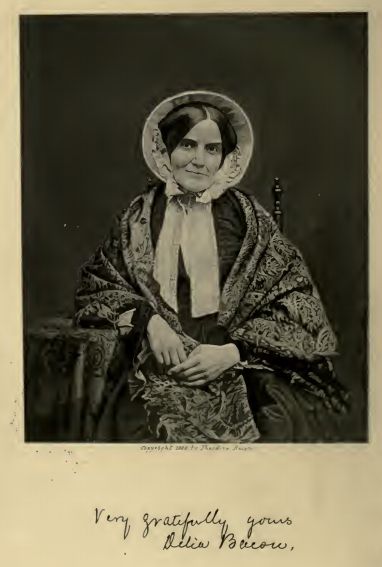 Miss Delia Salter Bacon
Hawthorne left Bacon after about an hour and they never met again, but a story reached him that some months previous to his interview Delia Bacon had gone to Stratford, taken lodgings and started to haunt the church in which Shakespeare was interred. She became acquainted with the clerk and began to sound him out regarding access to the tomb. Sensibly, the clerk informed the vicar who, on learning the facts, sought the advice of a lawyer. She was told that it might well be possible for her to have the gravestone lifted, if it were done in the presence of the vicar and his clerk, and after nightfall. Then, the doubts began. Had she really read her Bacon correctly? He mentioned a tomb, but was it Shakespeare's tomb, or his own, or Sir Walter Raleigh's, or that of Edmund Spenser. She held back but continued to haunt the church. One night, she crept in alone with a dark lantern in her hand and groped her way towards the chancel. She sat by the grave, examined the gaps in the stones but did nothing else. Presently, the clerk emerged from the darkness and made his presence know; he had been watching her all along. The tomb remained unopened.
Tomorrow - from bad to worse