Even before her accession to the throne of Great Britain, Victoria was the most eligible spinster in Europe. Several Royal Houses sought her hand for their assorted Princelings but it was Victoria's own uncle, King Leopold I of Belgium, and her mother, Princess Victoria, (sister of Leopold), who arranged for the young Victoria to be introduced to her German cousins, Ernest and Albert, Dukes of Saxe-Coburg and Gotha. It was hoped, initially, that Ernest, the elder brother by fourteen months, might prove to be attractive to Victoria but although they were temperamentally alike, she found him 'plain'. Albert, on the other hand, caught her eye, particularly on his second visit to England, and although the young Queen had actively avoided being pushed into an early marriage, she proposed to him on October 15th 1839 and they were married on February 10th 1840.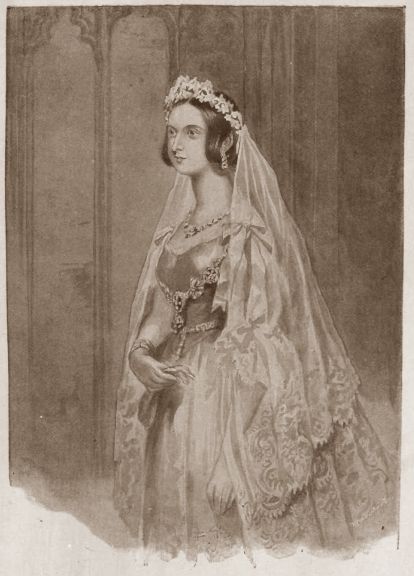 Queen Victoria in her wedding dress
Victoria and Albert were the same age, both born in 1819 and, interestingly, the same midwife had assisted at both births. At first, Albert was not at all popular in England. He was seen as just another minor European royal from an insignificant little state no bigger than most English counties, impoverished and a German to boot. Victoria's early popularity was on the wane, she interfered in politics, never a good thing for monarchs to do, she had a mind of her own, again not a good thing for a monarch, and furthermore she was a woman and a German to boot.
Prince Albert
At six o'clock in the evening of June 10th 1840, Victoria and Albert were riding in a phaeton, an open, four-wheeled carriage drawn by four houses, out from Buckingham Palace turning left up Constitution Hill towards Hyde Park. Victoria was sitting on the left side, Albert was on her right side, and after the carriage had travelled about one hundred and fifty yards it passed by some iron railings at the bottom of Constitution Hill, when a young man standing by them, about five yards from the phaeton, drew a pistol from his coat, fired a shot at the Queen, turned and looked behind himself, drew another pistol from under his coat, turned back towards the carriage and fired another shot at the Queen.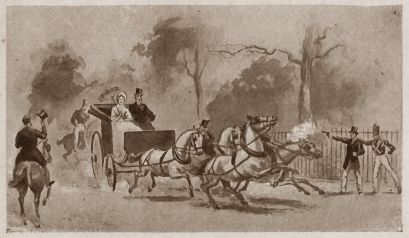 Shots fired at the Queen
Victoria was looking in the opposite direction at the time and had not realised what was happening. Albert had seen the man and drew his young wife down beside himself, the second shot passing over their heads. Joshua Lowe, a spectacle-maker, grabbed the shooter by both arms and Lowe's nephew, Albert, took the pistols from him. Another man, William Clayton, seeing the pistols in Albert's hands, cried, "You confounded rascal, how dare you shoot at our Queen?" and took them from him, thinking him to be the assassin. The real shooter, hearing this, shouted, "It was I, it was me that did it," but the rapidly assembling mob saw the guns in his hands and roughly seized Clayton, and took him to the police station. The Lowes and Samuel Perks, another witness, manhandled the real shooter to the same police station in Gardner's Lane, where he was taken into custody.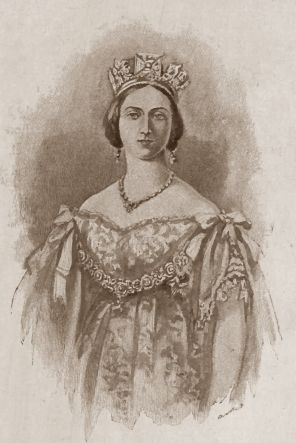 Queen Victoria
Back in their carriage, Albert took Victoria's hands into his own and asked if the fright had shaken her, to which she replied with a reassuring laugh, and then she stood up, to show the crowd she was unhurt. She then ordered the coach to drive at speed to her mother's house in Belgrave Square, to anticipate any exaggerated rumours that might reach her, before resuming the drive in Green Park, where a great crowd accompanied the Royal couple, with enthusiastic cheers. All the equestrians on Rotten Row formed a guard of honour and escorted the carriage around the park and back to Buckingham Palace, where for many days they returned and loyally escorted their sovereign on her rides. The Queen, although pale and shaken, bowed and waved to her subjects as she returned to the Palace, but when she got to the safety of her own rooms, she burst into tears. In all the theatres that night 'God Save the Queen' was sung with unrestrained enthusiasm, both Houses of Parliament rode, in full dress, in two hundred carriages to the Palace, where their address of congratulations was received by the Queen seated on the throne in state.
Queen Victoria's Court
Two days later, a concert was given at the Palace, where the Queen herself sang five numbers, including a duet with Albert. Her bravery, cool-headedness and composure brought about a re-evaluation of her reputation, and a new spirit of patriotic loyalty to the crown was fostered in the country. It was announced soon after that she was pregnant with her first child, which bolstered the sympathetic feelings towards the couple, and there was also the realisation that if the assassination attempt had succeeded, the crown would have passed to Victoria's uncle, Ernest Augustus I, King of Hanover, and so the country breathed a sigh of relief.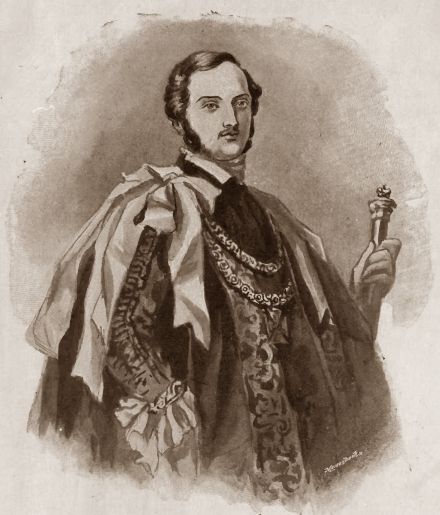 Prince Albert
As a consequence, a Regency Act was passed almost unopposed, which named Albert Regent should Victoria die leaving an infant heir, providing he continued to reside in the country and did not remarry a Catholic bride. As Regent, Albert attended ceremonial events seated beside Victoria, his name was included in the Liturgy, he was admitted to the Privy Council and he received the freedom of the City of London.
The would-be assassin responsible for this turn around in the fortunes of Victoria and Albert was one Edward Oxford, an eighteen-year-old potboy, who had recently been sacked from the Hog-in-the-Pound pub in Oxford Street. He had been born in Birmingham, the great-grandson of an Antiguan slave, into a family known for mental instability, and was tried for treason at the Old Bailey on July 6th 1840. He claimed that the pistol had not been loaded with shot, although police witnesses gave evidence that bullet marks had been found on brickwork at the scene.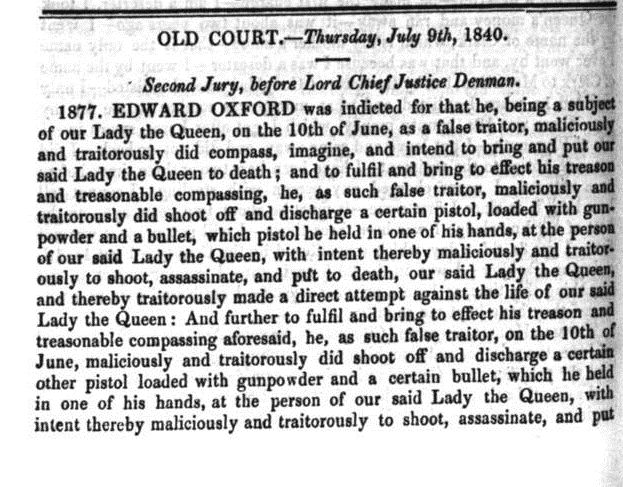 Trial of Edward Oxford - Proceedings of the Old Bailey
There were attempts to implicate Oxford in an anarchist plot but good sense prevailed and he was found not guilty of High Treason on grounds on insanity and committed to Bethlem Royal Hospital for the Insane, before being transferred to the new Broadmoor Hospital in 1864. He was, by all accounts, an exemplary prisoner who exhibited no outward signs of madness, and during his long incarceration he learned the skills of a house painter. It was felt that his motive had been an adolescent desire for notoriety at any cost, and in late 1867, he was released on condition that he emigrate to Australia. He lived in Melbourne under the name of John Freeman, worked as a house painter and rose in society when he married a wealthy widow twenty years his junior. He became a churchwarden at Melbourne cathedral and an author, writing newspaper articles and a book, Lights and Shadows of Melbourne Life (1888), before dying there in 1900.
John Freeman - Lights and Shadows of Melbourne Life - 1888
Edward Oxford was the first, but not the last, person to make an attempt on the life of Queen Victoria.