There is nothing that says an English Christmas like a Pantomime – ('Oh yes, there is – Oh no, there isn't'). The pantomime has its origins in the theatre, back even beyond the Greeks and the Romans, but that's a tale for another day; the name comes from the Greek – from παντός (pantos – 'all, every') and μϊμος (mimos – 'imitator, actor').
Going to the Panto with Mama
The English pantomime began in 1702, when 'Tavern Bilkers' was performed at Drury Lane, written by a dancing master, John Weaver, about whom we know very little – he was, it seems, a friend of Steele and Addison and was a 'little dapper, cheerful man'. It was somewhat as a failure, as Weaver did not attempt a similar performance until 1716, when he produced two burlesque pantomimes, 'The Loves of Mars and Venus' and 'Perseus and Andromeda', followed by 'Orpheus and Eurydice' and 'Harlequin Turn'd Judge' in 1717, and 'Cupid and Bacchus' in 1719.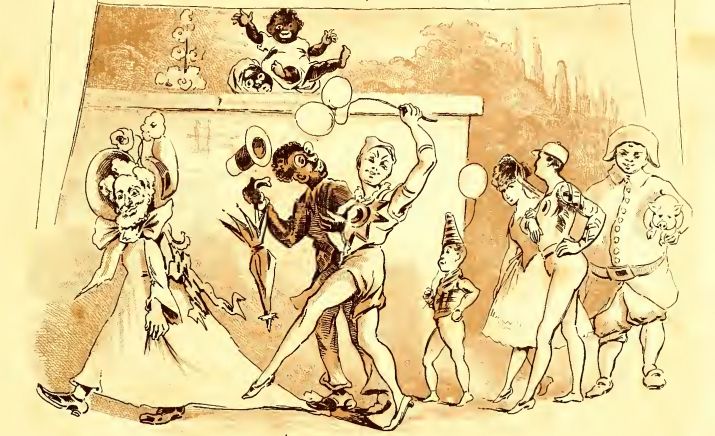 Politically Incorrect Panto
Pantomime, however, was not truly established until the involvement of John Rich, who staged 'Harlequin Executed' in 1717, and which he advertised as
'A new Italian Mimic Scene (never performed before), between a Scaramouch, a Harlequin, a Country Farmer, his Wife, and others'.
The debt to the Italian Commedia dell'Arte is freely admitted, a form of theatre in which stock characters performed a kind of improvised comedy – these characters included a lecherous old lush, Pantalone (or Pantaloon) and a pompous professor, Graziano, together with their servants, the zanni, (from which we take our word zany), including Harlequin, a scamp, Columbine, a simple, country girl, and Pucinella, a slow-witted hunchback. Rich took elements of all this and combined serious, mythological dramatic themes with comedic scenes, dancing, appropriate music and transformations or other special effects.
Traditional Harlequinade Characters
Rich called his Harlequin character 'Lun', short for 'lunatic', and his performances were, apparently, tasteful, graceful and witty. In the hands of later performers, the character degenerated into a cruder, grosser, clownish being, and Harlequinade gave way to Pantomime, with the tales drawn from Classical sources replaced by Fairy Stories, (Mother Goose, Puss in Boots, Aladdin and so forth). In the early nineteenth century, the characteristics of pantomime that we would recognise began to develop, with the role of the Principal Boy being taken by a young woman and the role of Dame taken by an older man.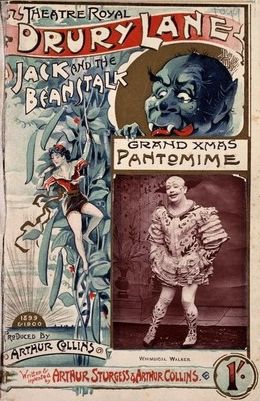 Panto Poster
The stories and theatrical effects made the pantomime a suitable festive diversion for young children and the inclusion of topical references and mild double entendres amused their parents, and it became traditional for the pantomime season to begin on Boxing Day, December 26th, and to run until Twelfth Night, January 6th, but the popularity of the shows meant that they often ran on into March.
Children's Pantomime Poster
Modern English pantomimes now feature a recognised 'celebrity' (quite often a pop or soap opera 'star', of questionable fame) in a principal role, a known 'comedian' (quite often of questionable comedic talent) as the Dame, other 'famous' actors in lesser roles, and include popular songs, the words of which have been adapted to include references to topical events, sexual innuendos which are supposed to go above the heads of the children (but probably don't), and a variety of theatrical flashes, bangs and wonders.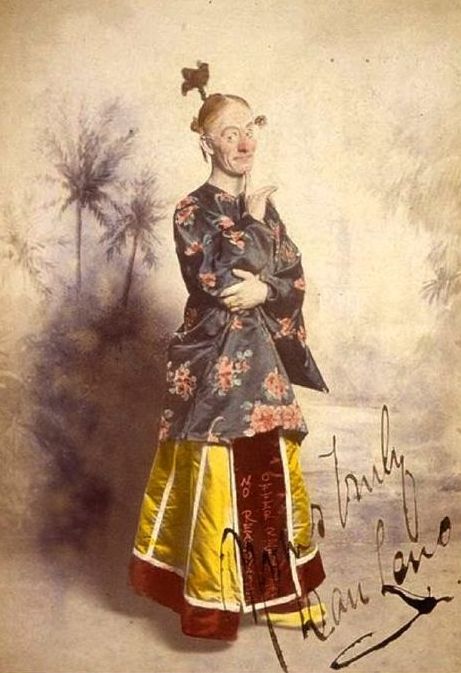 Dan Leno as Widow Twankey - 1896
Other conventions are the traditional animal – a pantomime cow or horse, for instance, usually played for comic effect by two actors in a single costume, the audience participation (where they shout directions and advice to the characters – 'He's behind you' – and boo the villains or cheer the heroes as they appear onstage), and the pantomime Fairy, who often resolves the action of the play at the end with a wave of her magic wand. They vary in quality – some are sophisticated, witty, entertaining performances, which can often be found in the theatres of the larger cities whereas others, seen in some provincial venues, are cruder and ruder, rougher or downright vulgar, (which is not necessarily a negative evaluation; the English have a long, strong (ooh, er, missus) tradition of smut).
Pantomime
Many theatres depend on the box-office boost provided during the pantomime season for financial security in a time of falling audiences and quite often the Christmas pantomime is the only experience of live theatre that many English people will encounter during the year. Pantomimes are a living link to the older customs of the reversal of roles during the festive period, as girls perform the role of the principal boy and older men are made-up as grotesque, cross-dressed Dames; we have seen these reversals in the Lords of Misrule, the Boy Bishops, the Mummers, Zagmuk and so on.