Eventually, however, he departed Dresden on September 20th 1775, bound for Rome. On arrival, he took lodgings in an inn, where he lived with several painters and first met the artist Anton Mengs, another German, who would become his lover (Winckelmann was openly gay throughout his life).
Anton Mengs - Self-Portrait
In January 1756, he received an audience from Pope Benedict XIV and was presented to Cardinal Passionei, who granted him full liberty to his private library between the morning hours of nine to twelve.
Laocoon
He also saw, for the first time, the Apollo Belvedere, the Laocoön, the Antinoös and the Belvedere Torso, which inspired him to begin writing a large work on Greek art.
The newly elected Cardinal Archinto employed Winckelmann as his librarian, gave him an apartment in the Chancellaria and frequently dined with him, an enormous honour for, as State Secretary, he usually only dined with prelates; Winckelmann also dined with Cardinal Passionei and Cardinal Albani, who was a leading collector of antiquities in Rome.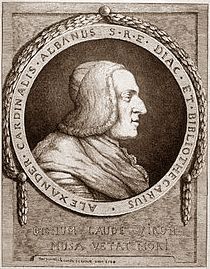 Cardinal Albani
Unsurprisingly, his spirits and his health improved greatly, his appetite returned and he ate heartily and drank like a German (that is, wine without water), he retired to bed early and rose early, his sleep now untroubled by night-sweats. Early in 1758, he travelled to Naples, where he greatly advanced his knowledge of antiquities and witnessed the excavations being made at Pompeii and Herculaneum.
On the day he arrived back in Rome, May 13th 1758, the Pope died and later in that year, on September 30th, he lost a powerful patron (and his lodgings) when Cardinal Archinto also died, in all likelihood by poisoning. Fortunately, Cardinal Albani wrote a letter in his own hand, offering him rooms in his own house and wages of ten scudi a month to become his librarian, which Wincklemann immediately accepted. Albani was building a magnificent villa outside of the Porta Salaria, to his own design and built to house his collection of antiquities, statues and paintings. In addition to various private libraries, Winckelmann had access to the Vatican library, possibly the finest in the world, which contained in excess of 300,000 volumes, including many rare and exquisite texts, and in these most advantageous of circumstances he began work on his own history of art.
This was finally published in 1764, as Geschichte der Kunst des Alterthums (The History of Art in Antiquity), which was immediately recognised as a masterpiece; it was the first real work of art history, which it established as a discipline and can also be said to be the first work on archaeology. It is difficult to emphasise the importance of this book, as it influenced the whole of the Neo-Classical revival (and the subsequent Romantic movement) that touched every aspect of aesthetic life, from painting and sculpture, through architecture, literature, poetry, philosophy, to furniture design and pottery. Oddly, for such a crucial book, it was not translated into English until 1849, and then by the American, George Henry Lodge. We can, with the benefit of hindsight, criticise Wincklemann for what he omits and ignores but without him, we would be in no position to make these judgements. He does not mention the Parthenon at all, for example, and Phidias only manages nine mentions in total.
Wincklemann spent much of the next few years revising, elaborating and editing his manuscript for a second edition, but in 1765 he revisited Naples again, where he witnessed an eruption of Vesuvius and trekked to the crater, like some latter day Pliny the Elder.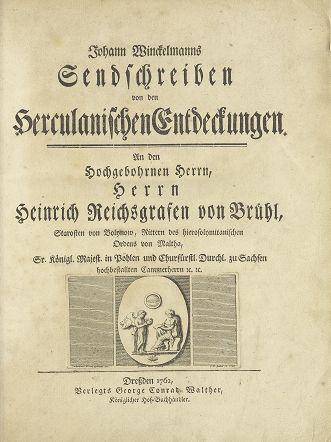 J J Winckelmann - Sendschreiben von den Herculanischen Entdeckungen (Letter about the Discoveries at Herculaneum) - 1762
He also began to make plans to return back to Germany, if only for a visit, and in March 1768, he received permission from his employer, Cardinal Albani, and his superiors, to make the journey. He travelled in the company of Cavaceppi, the sculptor, but when they arrived in Germany, Wincklemann saw the Tyrol with new eyes and hated what he saw, so he resolved to return to Italy at once.
They turned about, much to Cavaceppi's displeasure, and on May 12th they arrived in Vienna. Here, Wincklemann fell ill with fever and took to his bed for several days, and as he recovered he was presented to Empress Marie-Theresa, who received him graciously and made him a gift of a gold and two silver medals. She expressed a wish that he remain at her court in Vienna, and Prince Kaunitz repeated this wish and also presented Wincklemann with a gold medallion. However, his mind was made up.
Tomorrow - The Return Trip