In the years between 1827, when the first plates of his Birds of America were printed, through to 1839, when John James Audubon, with the assistance of James MacGillivray, completed the Ornithilogical Biography, he spent his time alternately between England and America. During his time in America, he travelled and drew, at a punishing pace;
"I am at work and have done much, but I wish I had eight pairs of hands, and another body to shoot the specimens; still I am delighted at what I have accumulated in drawings this season. Forty-two drawings in four months, eleven large, eleven middle size, and twenty-two small, comprising ninety-five birds."
J J Audubon - American Bald Eagle
He would rise before dawn and begin working, sometimes in sessions of fourteen hours at a spell, and would also go out into the wild to shoot specimens, which he mounted with wires in life-like poses, attempting to draw and paint the bird on the same day, and would work until about one o'clock in the morning, often only sleeping for four hours, before rising again and repeating the same pattern.
There was pressure to keep producing the drawings in order to fulfil his obligations to the subscribers, but it was a labour of love and Audubon worked at such a pace because he enjoyed what he was doing, his enthusiasm for the project drove his perseverance. When he spent the rest of his days engaged in the other side of the business, obtaining further subscriptions or collecting the fees, he dreamed of being back in the wilderness, left to himself with his birds, and adding material to his great work.
The Audubons tried settling down in New York, but city life did not suit them and, in 1842, they bought instead property on the Hudson River which they called Minnie's Land (it is now incorporated into New York and is known as Audubon Park). As the years passed, Audubon was greatly helped by his sons, Victor and John, (John Waterhouse Audubon became a noted naturalist in his own right), as they undertook much of the administrative side of the enterprise, giving Audubon more time to concentrate on his drawings.
When the octavo edition of Audubon's work was published, Victor oversaw the printing and John reduced the plates to the required size with a camera lucida. In 1837, Audubon faced two threats to the nearing completion of his work. The first was the result of his own industry, for as he had spent so much time searching for specimens, he had discovered new species that, in order to comply with his initial intent of figuring every species of American birds, he was compelled to included them.
However, he had, in his prospectus, fixed the edition to be of eighty parts of five plates, a total of 400 plates. Many subscribers were not prepared to pay for any additional plates, and Audubon was not prepared to compromise by including plates that featured more than a single species each, but his only other option was to issue a completely new, complete, edition.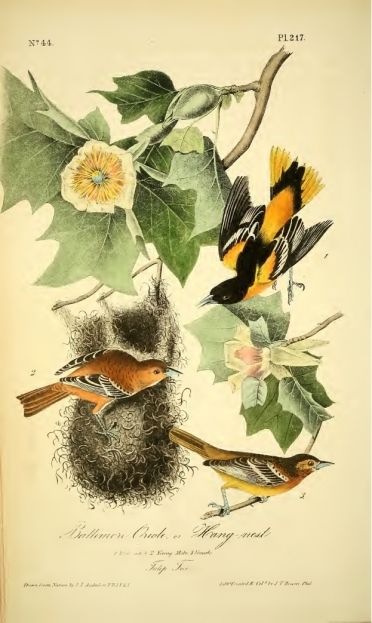 J J Audubon - Baltimore Oriole
He was also forced to abandon his plan of including plates, at the end, that were intended to show the eggs of all the birds. In the end, he extended the plates by an additional seven parts, of thirty-five plates, by which he figured 489 American species. The second problem was the economic crisis of 1837, which greatly affected subscribers on both sides of the Atlantic, with many having no choice but to cancel their subscriptions as they faced bankruptcy.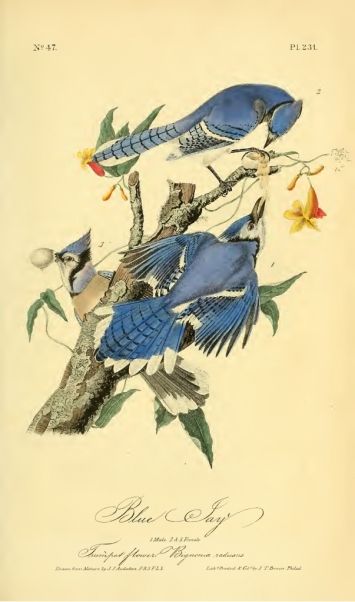 J J Audubon - Blue Jays
It had been an ambitious undertaking in the first place and, in his heart of hearts, Audubon must have known that a number of his subscribers would have had to cancel, for whatever the reasons, over a period of ten years, even if they fully intended to commit themselves to an outlay of about $100 per annum. Audubon himself estimated that there were 120 incomplete editions in circulation when the work was eventually completed.
J J Audubon - Eider Ducks
Still, on June 20th 1838, the final plate of the Birds of America was published, completing the illustrations although it would be two more years before the text was finished. It is a remarkable undertaking, in size, scope and ambition, and is one of the most beautiful of any printed book ever produced. The double elephant sized volumes require two men to lift them, because of the weight and the size, and each print contains a life-size depiction of its subject.
J J Audubon - Roseate Spoonbill
Audubon's finished drawings were engraved onto copper plates and for each impression, the metal plate had to be inked and pressed individually, left to dry, and then painted in water-colours by hand by teams of skilled colourists. At the time, chromo-lithography was a thing of the future, and this was the only method of producing a work of this sort. As such, it was tremendously expensive to make and to buy, and because publishers were unwilling to undertake the costs of production, Audubon himself paid for the books to be printed and coloured.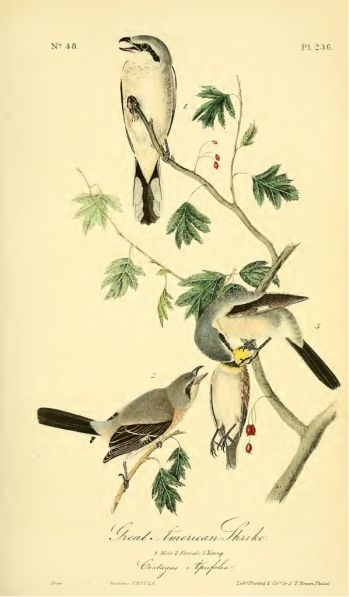 J J Audubon - Great American Shrike
It is estimated that he paid out over $100,000 in production costs over the twelve years it took to complete the work. It is thought that 120 copies of the complete first edition still exist, and to give you some idea of their worth, a complete copy sold in 2012 for $7.9 million.
Tomorrow – Beasts, not Birds.