It is a wise man indeed who knows when enough is too much. John James Audubon realised that he was never going to make a go of things in business; his heart was simply not in it. The failure of the mill was the last straw, and when he had cleared all the outstanding debts and was left without a dollar in his pocket, he had little option but to make a complete change in his life.
He began small - drawing black chalk portraits for $5, in and around Louisville, as it dawned on him that it might be possible for him to make a living from his real talents. And, as we all know, behind every great man there is a greater woman, and Lucy Audubon stood very firmly behind John. She worked as a school mistress and as a governess, bringing in an indispensable income to supplement what her husband earned from his portrait drawings.
John James Audubon
In 1819, he was offered a position as a museum curator in Cincinnati, and undertook taxidermy work, rearranging and remounting the exhibits, and the following year he undertook more taxidermy work at the Western Museum, mounting fishes for $125 a month, and added to his earnings by establishing a drawing school. The germ of an idea sowed in his brain by Alexander Wilson's enquiry if he intended to publish his ornithological drawings also began to grow at this time. Armed with letters of introduction to and from assorted governors, reverends and other persons of note, on October 12th 1820, he left his family behind in Cincinnati and began a drawing and specimen collection expedition down the Ohio River, bound for New Orleans.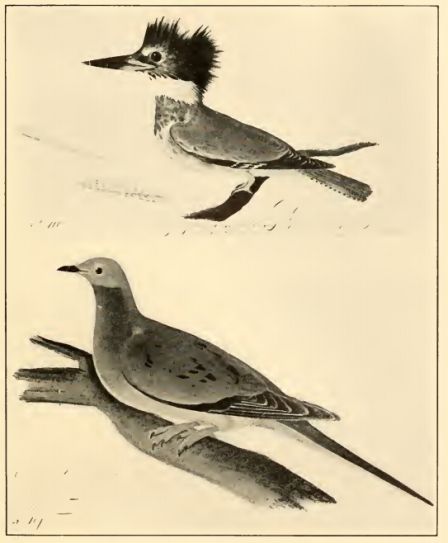 Early examples of Audubon's drawings
Along the route, when short of money, Audubon raised funds through the portrait work – on one occasion, unable to pay for repairs to his worn out footwear, he exchanged portraits of the local cobbler and his wife for two pairs of boots.His intention was to make life-size drawings of all the native birds of America and the most representative plants, all drawn from life, rather than from stuffed and mounted specimens, beginning with one hundred drawing on this trip. Contemporaneous zoological illustration was not at a very advanced state, with pictures drawn from, often amateurishly, mounted creatures, resulting in stilted and wooden representations. The illustrations in Wilson's American Ornithology are of this sort, as can be seen in this example.
Example of illustration from Alexander Wilson - American Ornithology
In June 1821, he had a chance encounter with Mrs James Pirrie, the wife of a cotton plantation owner from Louisiana, who was delighted with the quality of Audubon's draughtsmanship, and charmed by his Gallic manners, and offered him a business proposition. Audubon would teach her daughter to draw and in return, he would earn $60 a month, have every half day free to himself, to draw and hunt, and would be given board and lodgings at Oakley, her husband's plantation. The bird-life of the swamps and bayous of Louisiana was notably rich and varied, and it was too good an opportunity to miss. Thus, an unbreakable bond was forged between Audubon and the state of Louisiana.
The Road to St Francisville, Louisiana
He and his assistant/pupil, Joseph Mason, moved to Oakley, where James Pirrie introduced them to Eliza, his beautiful and talented seventeen-year-old daughter. During his stay, Audubon made a drawing of a rattlesnake which, when incorporated into an illustration of mocking birds, would later lead him into controversy with the scientific world (more of which later). At this time, Audubon cut a distinctive figure, tall and slim, with long curly hair, and dressed like the archetypical frontiersman, he was undoubtedly attractive, and young Eliza's beau, a local physician, took umbrage at the free access to her accorded to the Gallic drawing master. There were jealous words, Audubon found the position far too ridiculous to endure, and left for New Orleans.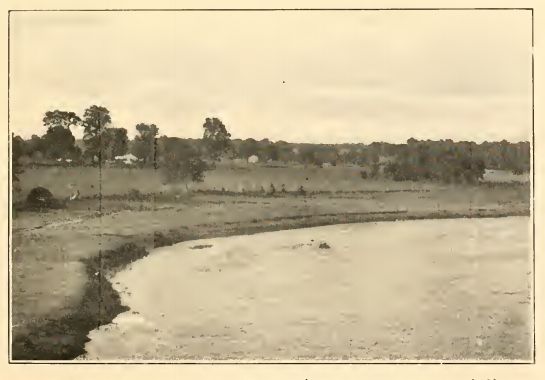 Bayou Sara Creek, West Feliciana, Louisiana
He recorded in a journal that later he passed Eliza in the street and was totally unrecognised by her. The jealous doctor didn't get things his own way, however; Eliza eloped with the son of a local planter, who died a month later as the result of a cold contracted when carrying the spirited Miss Pirrie in his arms across a waist-deep stream. In all, she married three times, had five children, and her ashes were laid to rest beside the remains of her second husband, a Louisiana preacher.
Oakley Plantation House, Louisiana
Back in New Orleans, Audubon was joined by his family, and again they underwent straitened circumstances, saved only by Lucy's teaching income, but when winter conditions proved too harsh, they were compelled to move again, to Natchez. The passage was paid for by portraits of the captain and his wife, but whilst on board the Eclat Audubon lost over two hundred drawings, when a bottle of gunpowder broke in the chest holding them, and discoloured the pages.
This wasn't the first time that Audubon had lost his work – when travelling from Henderson to Philadelphia, he left drawings of over one thousand birds in the care of a friend, leaving strict instructions to take the greatest of care with them. He returned several months later, the chest was opened, and the discovery was made that a pair of Norway rats had shredded all the drawings to make a nest, in which they had raised a litter of young. Audubon, by now no stranger to poverty and hardship, struggled to make ends meet and on several occasions had to put his ornithological project on a back burner, simply to make enough money to survive, but decided that the only way forward was to publish his work to date. And that meant a visit to Philadelphia.
Tomorrow – Philadelphia and what Audubon did there.