He was a stranger in a strange land, but with characteristic resolve John James Audubon applied himself to his task. He had letters of introduction from America and he soon made the acquaintance of the best men of arts, letters and science in England, including Sir Walter Scott, Humphrey Davy, Thomas Lawrence and Robert Bakewell (his wife's cousin). Within a week of landing at Liverpool, Audubon was in London, exhibiting his drawings at the Royal Institution, which earned him over a hundred pounds in admission fees. Lord Stanley declared that,
"This work is unique, and deserves the patronage of the Crown."
John James Audubon
Audubon himself cut quite a dash with his long hair, dressed with bear grease, his unfashionable clothes, his abstemious habits of food and drink, and his natural courtesy and down to earth manners. Everywhere he went, he was well received and found support for his plan to publish his drawings in full size, and he began to collect names of those willing to subscribe. He travelled to Manchester, from where he paid a visit to Bakewell, his wife's family home, back to Liverpool and then on to Edinburgh.
Here, he found himself in his element and began to feel that success was within his grasp. Professor Robert Jameson did much to popularise Audubon's work, and recommended it to the University. He was lionised in the newspapers, so much so
"… that I am quite ashamed to walk the streets."
The Institution Hall granted him free use of their rooms and insisted that a shilling admission be charged, all of which would be paid directly to him, thousands of enthralled visitors gladly paid to see the 400 drawings, depicting over 1,000 different species. He was wined and dined, at the St Andrew's Day banquet given by the Royal Society of Antiquarians he was so overcome by the praise heaped upon him that
"…the perspiration poured from me and I thought I should faint."
He was made a Fellow of the Royal Society of Edinburgh, and of the Society of Antiquarians, he was elected a member of the Wernerian Society of Natural History and also of the Society of Arts. A letter of introduction to Patrick Neill brought an introduction to William Home Lizars, a distinguished Edinburgh engraver, and when Audubon took the first of his drawings from his portfolio, Lizars jumped up out of his chair and exclaimed,
"My God, I never saw anything like this before!"
J J Audubon - Great Footed Hawks (Peregrine Falcons)
But it was when he saw the drawing of the Great Footed Hawks (Peregrine Falcons) that he declared his intention of engraving and publishing Audubon's works, in full size, in volumes of double elephant size (40 inches by 27 inches). A specimen volume would be produced first and on November 10th Lizars began his engraving; on November 28th 1826, he handed Audubon the first proof of the Wild Turkey, produced in life size to justify the decision to print at such a large size.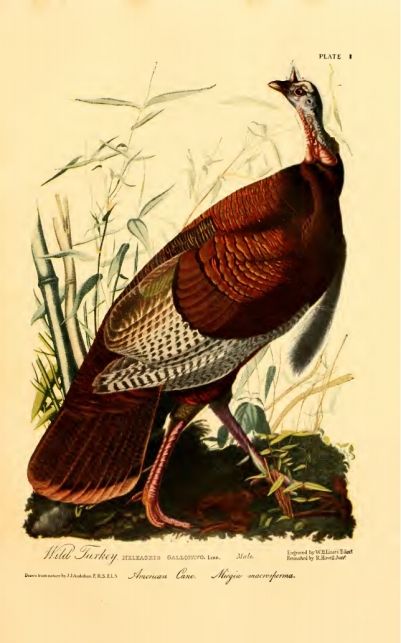 J J Audubon - Wild Turkey
By December 10th, Lizars had finished the second plate, Yellow Billed Cuckoos in a papaw tree, with the male seizing a swallowtail butterfly, and over the next few weeks a total of ten plates were made. These, when publicly displayed, were an astonishing success. Subscriptions began to flood in, from Edinburgh University, the Countess of Morton and other distinguished collectors. However, Audubon was still concerned, he was now into his forties and he estimated that it would take a further sixteen years to complete his ambitious project.
J J Audubon - Yellow Billed Cuckoos
Nevertheless, at the end of March 1827, he issued his first formal prospectus, that the works would be issued in instalments of five double elephant plates, on the finest paper, five times per year, at a cost of two guineas per instalment. From Edinburgh, he departed on a tour to gain subscriptions, first by stage to Newcastle (where he met Thomas Bewick, the eminent wood engraver and ornithologist), then to York, Leeds, Manchester, Liverpool, Birmingham, Oxford and back to London.
J J Audubon - Osprey
Back in the capital, he met John George Children, Secretary of the Royal Society and head of the Department of Zoology of the British Museum, and through Children Birds of America was presented to King George IV, thus allowing Audubon to announce that his book was being issued
Under the Particular Patronage and Approbation of his Most Gracious Majesty
Prospectus for Audubon's Birds of America
Through the assistance of Children and Lord Stanley, Audubon was also elected as a Fellow of the Royal Society, an honour that he valued more than any other of the many showered upon him. But, this being John James Audubon we are considering, not everything went to plan, for he had not been in London long when Audubon received a communication from Lizars in Edinburgh. The workers employed to colour the engravings had gone on strike, and by reading between the lines, Audubon believed that Lizars was about to renege on his contract.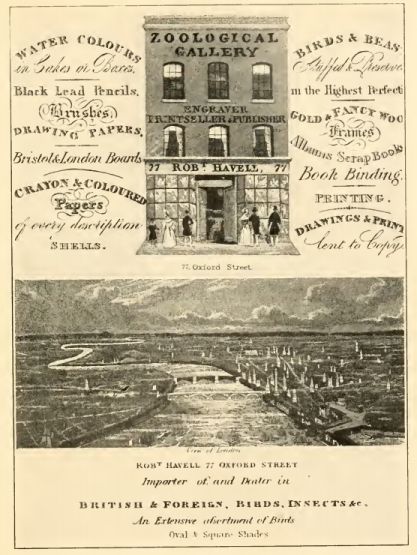 Advertisement for Havell and Son
Consequently, he scoured London in the search for a replacement for the Scots publisher, and eventually came across Robert Havell Jnr. who agreed to complete the colouring of the sheets already printed by Lizars and to undertake a sample engraving made from one of Audubon's drawings of the Prothonotary Warbler.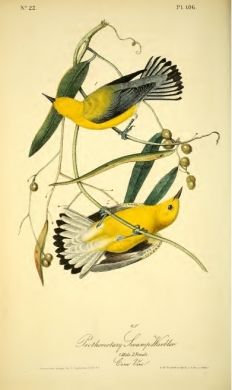 J J Audubon - Prothonotary Warblers
The result far exceeded Audubon's expectations, and he passed the entire operation over to Havell, with young Havell undertaking the engravings, his father to do the printing, and the Senior and Junior Havells to supervise a team of colourists, who would hand tint the prints, with Audubon overseeing the entire work personally.
Prothonotary Warblers - by Lizars (left) and Havell (right)
Tomorrow - How could anything possibly go wrong?