To her mother, she was a single child, one girl, and that is why she compromised with the name. She gave her baby the name Millie Christine, something that is not all that unusual when you think about it, given the Susan Annes, the Charlotte Victorias and the Mollie Graces of our day, but there was a deeper reason for the binomial. How do you name one baby that is two babies? Millie Christine was just that – two people in one. A conjoined twin.
Millie Christine
In later life, Millie Christine would travel on the railways on a single ticket. How could she not? You can't have one without the other. If Millie went, Christine went too. Or, if you prefer, when Christine went, then Millie had little other option but to go along as well. Millie Christine was, or should that be were, two people. Millie Christine was one or two person(s). Some anatomical things were separate, but one body shared some other anatomical things. Some other things were entirely separate. Was she an atom or was she a molecule (or even an isotope, perhaps)? When you get around to delivering Philosophy 101, drop this one on your freshers. You'll get at least a fortnight's insight into your shiny new savants out of it.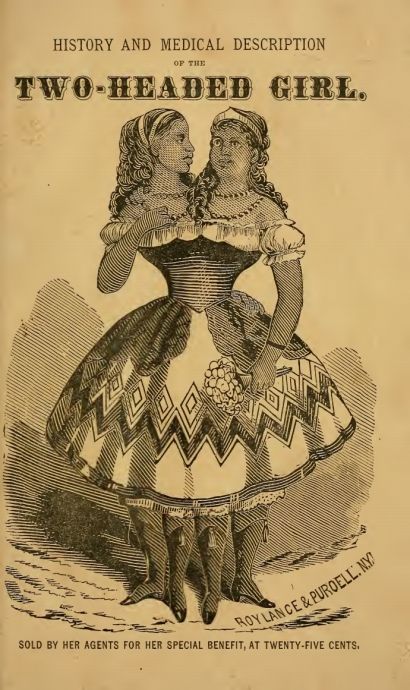 History and Medical Description of the Two-Headed Girl - 1862
Millie Christine was born to Monemia and Jacob on July 11th 1851 at Whiteville, Columbus County, North Carolina, on a slave plantation belonging to the farmer and blacksmith, Alexander McCoy. As was common practice at the time, slaves took the surname of their master, thus Millie Christine is known as McCoy (or McKoy, or McKay). Monemia was thirty-two when Millie Christine was born, having previously delivered five boys and two girls, all of whom were normal, (in all, she bore fourteen children). The birth was said to be brief and easy, Christine, the larger child, was born first with Millie delivered by breech; they weighed seventeen pounds combined. The mother said she had no explanation for the condition of her daughter, and she had not seen the famous Siamese Twins, Chang and Eng Bunker, who had settled on an adjoining plantation at the time, (and thus, not a case of maternal impression).
The History of the Carolina Twins - told in "Their own Peculiar Way" by 'One of Them'
Mr and Mrs McCoy treated Millie Christine well, moving her into their house and attending to her care and welfare, but constant interruptions from curious sightseers became overwhelming and McCoy sold the entire family to a Mr Brower and a Mr Smith for $10,000. 'The Carolina Twin', as Millie Christine was now known, was taken to New Orleans, where the first of many medical examinations was made, and plans were drawn up to exhibit the infant prodigy to the public.
The naive Brower and Smith were swindled by a Texan named Purvis, who at first offered them $45,000 for Millie Christine, and then kidnapped the child, hiding her away in various locations and then displaying her in Barnum's American Museum, before he himself was duped by a 'Professor' Miller and a William Thompson, who transported her to Britain, where she was publicly displayed in various towns and cities for the next year.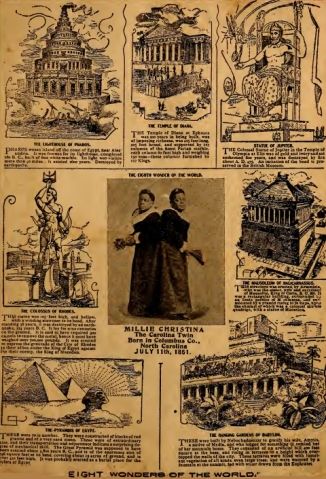 Millie Christine - The Eighth Wonder of the World
Joseph Pearson Smith eventually tracked the Carolina Twin down, and crossed the Atlantic with his wife and the child's mother. In Birmingham, they found her in an exhibition, and after writs, court cases, perjuries, bribes and the intervention of the American Consul, the child was returned to her mother (arguments about who 'owned' her had little weight, as slavery was abolished in Britain in 1833).
Reunited, the mother and child, together with Mr and Mrs Smith, returned to the Carolina plantation and, astonishingly, Miller and Thompson followed them, pausing in Charlotte, where their plans to re-kidnap their cash-cow became known, and they were run out of town before the prospect of a tarring and feathering. Mrs Smith undertook the education of Millie Christine, and she learned to read, write, sing, and dance, play the guitar and the piano, and also became fluent in five languages.
The Two-Headed Nightingale
In 1860, Joseph Smith died after a short illness, but Mrs Smith continued to care for Millie Christine and her family, and after the end of the American Civil War, and the abolition of slavery, The Carolina Twin willingly placed herself on display to paying audiences and earned enough money to purchase the plantation on which she had been born, which she presented to her parents. As a voluntary performer, The Two-Headed Girl was enormously popular; in a fortnight's presentation at Washington, 30,000 people paid to see her, in a three-week show in Boston, she was seen by 70,000 people and in a single day in New York, 10,000 visitors flocked to see her.
The Two-Headed Nightingale
She made a long tour of Britain and Europe, where she performed as The Two-Headed Nightingale, and was enthusiastically received, and made a number of royal command performances before Queen Victoria and her court. All the contemporary descriptions of these performances are at pains to point out the intelligence, wit, education and grace of Millie Christine, who performed duets of self-penned songs, which she accompanied on various instruments, Millie singing contralto and Christine taking the soprano part, and dancing the waltz, the polka and the schottische. She spoke English, French, German, Spanish and Italian. After a career of over thirty-five years, the Two-Headed Nightingale retired to her North Carolina home, but in 1909 a fire destroyed all her possessions and she suffered great financial loss. In 1912, Millie contracted tuberculosis, which spread to Christine, and on October 8th, she died, as she had lived - together.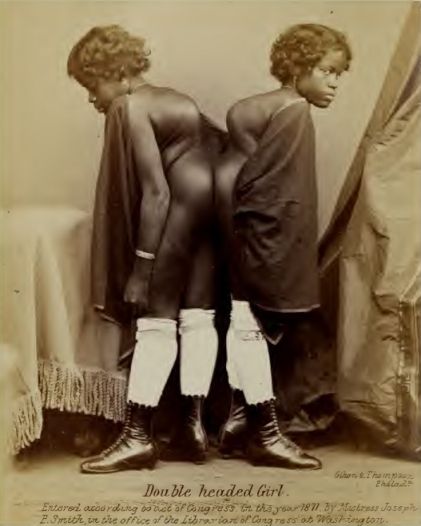 Millie Christine - the Double Headed Girl
Millie and Christine were pygopagus conjoined twins, which is to say, they were two individuals joined in the back at the sacral region, (pygopagus coming from the Greek πυγη – the nates (buttocks), and παγω – I fasten). They were joined by a cartilaginous band of about sixteen inches in circumference, and the sacra were so closely placed that it was believed that there was some osseous union (shared bone-growth). They stood about four feet six inches tall and, in adulthood, weighed a combined 170 pounds.
Description of the Carolina Twins from The Stethoscope and Virginia Medical Gazette - March 1852
The sisters made all their own clothes and dressed in a large enough single dress with four sleeves, with a sash about their common waist. From infancy, they had instinctively twisted themselves into the same lateral plane and the cartilage had yielded a little, allowing them to walk in the shape of a letter V, with the apex leading, taking their weight on the outer legs and balancing on the weaker inner legs. Although they kept regular habits, one was able to sleep whilst the other remained awake.
I'm happy, quite, because content,




For some wise purpose I was sent;




My master knows what he has done,




Whether I'm created

two or one.

Verse by Millie Christine