The trial was held at the Old Bailey on Friday May 15th 1812, just four days after the assassination. After the jury of twelve good men and true had been sworn, the Attorney General began the proceedings by questioning Mr William Smith, the Member of Parliament for Norwich, who had been present in the lobby of the House of Commons when Spencer Perceval, Prime Minister, had been shot. Smith described how he had heard a shot, turned and saw a man stagger towards him, who fell face down on the floor. As Smith attempted to help the man to regain his feet, believing him to be merely wounded, he turned him over and only then recognised him to be Spencer Perceval.
Spencer Perceval
With help from other bystanders, Smith carried Perceval into the office of the Speaker's Secretary, sat him on a table with his feet on two chairs, and realised that Perceval was already dead. A slight trickle of blood came from his mouth and there was a small bloodstain on his shirt and waistcoat. Other than a few sobs, Perceval had said nothing and when Dr Lynn arrived a few minutes later, there was no perceptible pulse. This Dr William Lynn, a surgeon who lived in Great George Street, Westminster, was next to take the stand. He had been called and came straight away, but Perceval was dead when he arrived. He examined the body and found a gunshot would on the upper left side of the chest, the ball had entered or passed through the heart and this was undoubtedly the cause of death.
An Old Bailey Trial
Mr Henry Burgess, a solicitor, was called next. He had been in the lobby, with about twenty other people, when he too heard the shot, and had seen Perceval stumble and fall. Burgess had heard cries and saw a man sitting on a bench beside the fireplace, with a pistol in or under his left hand. With the help of others, Burgess approached the man, seized him and emptied his pockets, finding another pistol, some money, a bundle of papers and other items. The man was taken to the bar, a magistrate was called and witness statements, including one from Burgess, were taken and the man was placed in custody.
The Assassination of Spencer Perceval
Lieutenant General Isaac Gascoyne, the MP for Liverpool, gave evidence next. He had been in the House of Commons, waiting to present a petition, when he heard a loud shot in the lobby. He rushed out into the lobby, saw the commotion and a man sitting on a bench, with some pointing at him, so Gascoyne held tightly onto the man, telling him that he recognised him and that he could not escape. With Mr Burgess and others, he had helped manhandle the prisoner into the Commons, where he had also given a statement. Mr James Taylor, a tailor, was the next witness; the prisoner had been a customer of his, he had made pantaloons and a waistcoat for him, and then, on April 25th, he had brought a coat to him and asked him to sew a pocket, nine inches in length, into the inside of it. Other witnesses were called, all of whom identified the prisoner as the man who had fired the shot that had killed Prime Minister Perceval on Monday, May 11th 1812.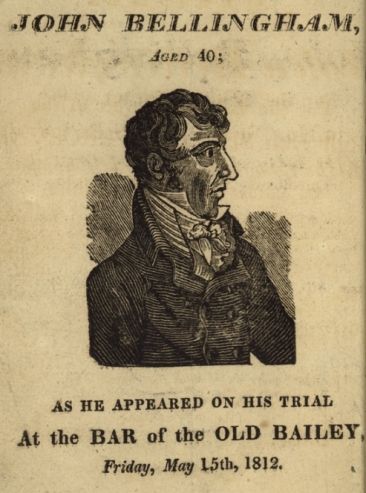 John Bellingham
Then, John Bellingham took the stand. He was not now, or ever had been, insane and against the advice of his lawyers he did not intend to plead insanity. He bore no personal or premeditated malice to Mr Perceval, who was the unfortunate figurehead of the administration against which he was at odds. His problems had started in 1804, when he had travelled to Russia on business.
In 1803, a Russian ship, the Soleure had been lost in the White Sea but an anonymous letter to Lloyds of London, the insurance underwriters, claimed that the ship had been sabotaged and Lloyds refused to pay out on the policy. Solomon Van Brienen, of the house of Van Brienen, the ship's owners, believed that Bellingham had been the author of the letter and in retaliation, he issued a writ implicating Bellingham in a debt for bankruptcy. As a result, when Bellingham attempted to return from his business trip to Archangel, his travel permit was revoked and he was arrested.
Bellingham's Trial - Proceedings of the Old Bailey - 1812
He remained imprisoned for a year and when he was released, he went to St Petersburg, where he attempted to have the Governor-General responsible for his arrest impeached, a move that upset the Russian authorities, who charged Bellingham with leaving Archangel illegally and placed him under arrest again. He remained in a Russian prison until 1808, when he was released but was still denied permission to leave Russia. In desperation, he petitioned the Tsar, and in late 1809 he eventually arrived back in England.
Charles Williams - The Life and Administration of the Right Hon Spencer Perceval - 1815
He began to seek compensation from the Foreign Office for his imprisonment but, as Britain had cut its diplomatic links with Russia in 1808, his appeals were rejected. He produced numerous letters in court as proof of his attempts to gain redress for the lack of diplomatic pressure during his imprisonment in Russia, together with replies denying his claims, and he stated that a civil servant in the Treasury had told him,
"… that I had nothing to expect, and that I was at liberty to take such steps as I thought fit."
Bellingham had taken to waiting in the lobby of the House of Commons, hoping to persuade a Member to take up his case, but was constantly rebuffed. He had spent all of his funds on his claims, his young wife and child were in dire need, and he was at his wits end. In his view, Perceval had placed himself beyond the law by refusing to hear his case and had denied him the rights due to any free-born Englishman. In such straightened circumstances, Bellingham felt that he had no option but to remove the person or persons responsible and Perceval had been in the wrong place at the wrong time.
Daniel Wilson - The Substance of a Conversation with John Bellingham - 1812
Lord Chief Justice Sir James Mansfield, the judge, rejected further evidence that Bellingham was deranged and summed up the case

- the jury spoke for a couple of minutes amongst themselves then withdrew for fourteen minutes. They returned with their verdict - regardless of the circumstances, John Bellingham was guilty of the murder of Spencer Perceval. Mansfield pronounced the sentence, that Bellingham was to be hanged and his body given over to the anatomists for dissection.
On Monday May 18th 1812, he was taken from his cell in Newgate prison and at eight in the morning, before a silent crowd, the executioner knocked away the support below the trap door and Bellingham dropped into the void. His body was taken on a cart to St Bartholomew's Hospital, where it was privately dissected. Perceval was mourned throughout the country except for one town, when news of Perceval's death reached Nottingham, there were widespread celebrations, with beating drums, flags flying, bells ringing and bonfires burning. The military was called out, the Riot Act was read out and peace was restored.
A Newgate Execution
It is difficult to imagine wide-spread public celebrations breaking out if the death of a Prime Minister (or former Prime Minister) was announced these days …