Samuel Wesley moved from London to Lincolnshire, when he became the rector at Epsworth, and in May 1697, Elizabeth Dunton died, and this almost spelled the end of the Athenian project too. She left a touching letter, which Dunton published in his autobiography, The Life and Errors of John Dunton (1705), he provided mourning for twenty of her relatives and buried her at Bunhill Fields, beneath an elegant tombstone which bore a long, self-penned, memorial verse. Mr Rogers, a respected divine, was engaged to preach a funeral sermon at her late-father's meeting house, which Dunton later published.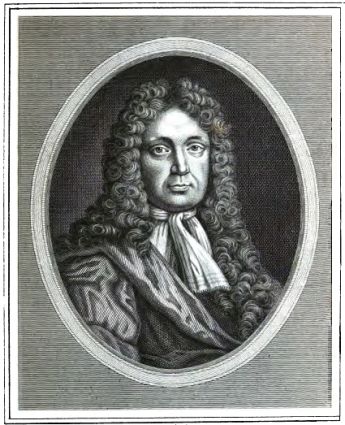 John Dunton
And then, a mere six months later, he was married to Miss Sarah Jane Nicholas of St Albans (he always calls her 'Valeria'), but this marriage was not, shall we say, the happiest. He wrote of her,
"She seemed to be his first wife in a new edition, corrected and enlarged, or rather in a new binding,"
but his early, high estimate was ill-founded. His first wife had effectively managed his business affairs on his behalf, but his second spouse lacked her predecessor's commercial acumen. Shortly after the marriage, Dunton left her behind in London and made his way to Ireland, where he sold all his books at auction and managed to get into a variety of scrapes, which he describes in The Dublin Scuffle (1699).
He fell out with his new mother-in-law, Jane, and she and her daughter accused him of only marrying for money, to clear his debts with the 'maggoty' printers. Dunton's sanity, never the most stable of things, began a marked decline and his writings from this time reflect this

- he is, he says, learning the Art of Living Incognito, scribbling for a living ('… constant sickness and debt have made me an author… an everlasting drudge to the quill'), and only alive thanks to the charity of his friend, the Rev Samuel Wesley.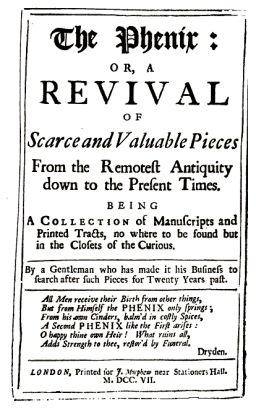 John Dunton - The Phenix - 1707
What he did write became increasingly deranged, from 'Dunton's Whipping Post; or, a Satire upon Everybody', through 'The Living Elegy, or Dunton's Letter to his few Creditors' and 'Neck or Nothing' to 'Mordecai's Memorial, or There is nothing done for him.' He wrote political pamphlets for the Whigs – one, Dunton's Ghost (1714), is signed 'By the unknown author of Neck or Nothing, since he was number'd among the dead'. He separated from Sarah and she died in 1721, and, by then quite mad, he died 'in obscurity' in 1733.
John Dunton - Dunton's Ghost - 1714
It was said of him that he contained a thousand projects, fancied that he had methodised six hundred, and was ruined by the fifty he executed; he was known to his contemporaries as a 'lunatick', back in the days when you knew that if the other people thought of as a lunatick, then you really did have a cause to be concerned.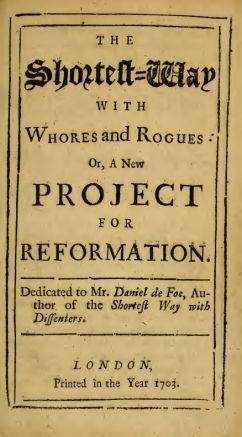 John Dunton - The Shortest Way with Whores and Rogues - 1703
Perhaps his maddest idea was a project (all his schemes were called 'projects') entitled The Night Walker; or Evening Rambles in search of Lewd Women. The aim was the extirpation of lewdness from London, something as unlikely to be achieved, as it was impracticable to undertake. Dunton armed himself with a truncheon and, with a clerical companion in tow, he sallied forth on the streets of the metropolis in the evenings, and the pair of moral crusaders followed the wretched street-walkers home, where every effort was made to win the erring fair to the paths of virtue.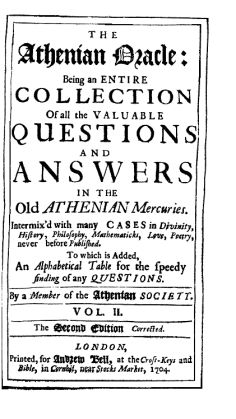 The Athenian Oracle - Second Edition - 1704
And what of the Athenian project, his first and the best? Dunton retained the copyright and in 1702, a three-volume compilation of the most interesting questions and answers from The Athenian Mercury were republished as The Athenian Oracle; a second edition followed in 1704, after which the copyright was sold to Andrew Bell, bookseller of the Cross Keys and Bible, Cornhill, who published a further edition in 1706, and added a fourth volume in 1710.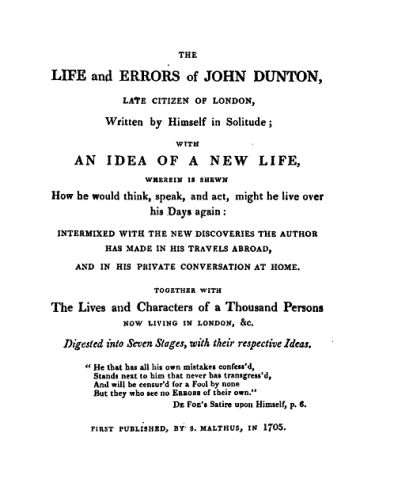 The Life and Errors of John Dunton - 1705
If The Athenian Mercury was a forerunner of the modern question-and-answer magazine, the Athenian Oracle can be thought of as a more populist, everyman version of the more esoteric Philosophical Transactions of the Royal Society, (which commenced in 1664). That is not to say it was, in modern parlance, that it was 'dumbed-down'; on the contrary, it was self-consciously knowing, and referenced such authors as Montaigne or Rabelais. The following reply, for example, to the question, "What is knight-errantry?" could have been taken almost verbatim from the latter's Gargantua and Pantagruel –
"Knight-Errantry is loving, sighing, whining, rambling, starving, tilting, fighting, dying, reviving, walking, staring, singing, crying, praying, wishing, composing, writing, serenading, rhyming, hoping, fearing, despairing, raving."
It also provided the mould for two other publications of interest, which I will consider next.