Bartolomeo Pergami of Crema. Handsome, tall, manly Bartolomeo swells his dashing Hussars uniform; spur rattling, sabre clattering, mustachio-twirling Bartolomeo attends the Royal Hotel, Milan, with a letter of introduction to hand. He finds no one at reception. He advances deeper, looking for a flunkey, and in a side-saloon he finds a lady, her skirts entangled about a chair-leg. He swoops, he stoops, deftly frees the lady from her snare; he rises, towering, inclines an amply curly head, enquires where he may find the Princess. He is informed. She is the Princess. Striking, strapping, swarthy Bartolomeo is engaged on the spot. He will be the courier to the Princess.
Pergami came from a good family, rather than a great family, but the French Revolution had ruined them. He had served, with honour, fighting the Corsican, and although he still wore his Hussars uniform, he was not really entitled to do so – he had killed a man of superior rank who had slighted him, in a duel, and the army had seen fit to relieve him of further service.
He was able, he was spirited, he got things done. Campaigns had hardened him, service had equipped him to cope, action had built him. He was noticed, his competence rewarded, his rise assured. First, he became an equerry, then a chamberlain, Caroline acquired a military order for him, Knight of Malta, then another, the Sicilian title of Baron della Francia, later she had him raised to Knight of the Holy Sepulchre at Jerusalem, and made him Grand Master of her own order of St Caroline.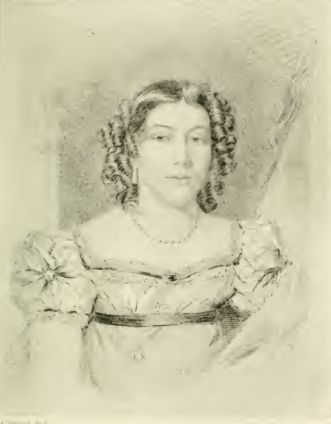 Countess Oldi, sister of Bartolomeo
His family was brought in, employed, given positions in the Royal household; his brother, Luigi, presided over it, Valotti Pergami became controller, their sister Angela, married to the Count Oldi of Crema, replaced Lady Charlotte Campbell as the Queen's Lady in Waiting. Caroline bought the Villa d'Este, on the shore of Lake Como, in July 1815, although she could not afford to do so, and eyebrows were raised when Bartolomeo began to dine at her table there. Indeed, tongues were set wagging across Europe, (Byron, in a letter of January 1816, wrote to John Murray concerning the morality of Venice,
" … a woman is virtuous (according to the code) who limits herself to her husband and one lover; those who have two, three, or more, are a little wild; but it is only those who are indiscriminately diffuse, and form a low connection, such as the Princess of Wales with her courier, (who, by the way, is made a knight of Malta) who are considered as overstepping the modesty of marriage."
Lord George 'No Stranger to Scandal' Byron
I'd offer that you were rather more than over-stepping the bounds of modesty if the libidinous Lord Byron was so sufficiently outraged that he cast a disapproving glare on your behaviour!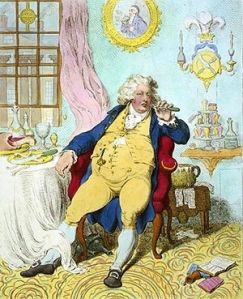 An outraged Prince Regent
Back in England, the whiff of scandal causes the Prince Regent to prick up his ears. He still wants evidence, still wants a divorce, for all that Caroline has removed herself to the Continent. He employs spies, agents to watch, to note and report back, to collect and catalogue every rumour, every indiscretion, every folly. He uses his connections, of which there are many, in the German Courts; he is, after all, heir apparent to the dignity of Elector of Hanover. Count Munster, Hanoverian prime minister, is too happy to comply and through him Baron Ompteda, with characteristic Germanic diligence, establishes a bureau in Milan, whereby Caroline's servants are bribed, her movements surveyed, her comings and goings logged. Keys to drawers were duplicated, letters were read, and conversations were eavesdropped upon.
Caroline, Princess of Wales
Some Italians, for certain sums and considerations, were persuaded to submit whatever statements about the Princess, her movements and her behaviour, as were required, in satisfactory amounts. Caroline realised what was going on in Milan; she arranged for Ompteda to be sent on wild-goose chases and when he was dining at the Villa d'Este, she dropped unequivocal hints that she knew about the counterfeit keys. In a private letter, which Caroline knew full well would be opened and read, she wrote,
"Le porteur de cette lettre est une personne qui ne dit jamais la vérité: il est un espion de la Câbal"

[The carrier of this letter is a person who never told the truth: he is a spy of the Cabal].
Bartolomeo Pergami
The Prince Regent sent one Mr Quentin to Naples, with the intention of spying on Caroline when she visited there, under the pretext on buying thoroughbred horses. The suspicions of Count Macirone were aroused when this supposed horse-buyer didn't actually buy any horses, even when the finest animals in the Royal stud were offered to him, and Macirone informed the King of Naples know what he thought of this odd behaviour. The King sent news to Caroline, keeping her abreast of his intelligence, and offering to escort Quentin, and any other spies sent by the English, to the borders of his kingdom. Caroline, characteristically guileless, declined with the reply,
"When he has looked about him and satisfied himself, he'll take his departure."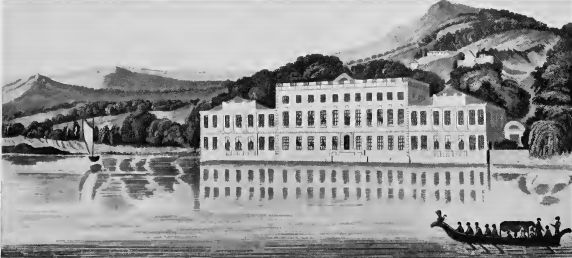 Villa d'Este, Lake Como
Ompteda bribed one of Caroline's servants, Maurice Crede, to allow access to her bedchamber in the Villa d'Este, where a search for evidence of adultery was carried out (nothing was found). Crede was fired, ostensibly for an affair with a female servant, and so, in an attempt to regain his position, he wrote a letter confessing his treachery and undoubtedly causing quite a kerfuffle in Hanover when he named Ompteda as the person behind the intrusion. Hardly the sort of thing a secret spy-master needs to be thrown out into the open.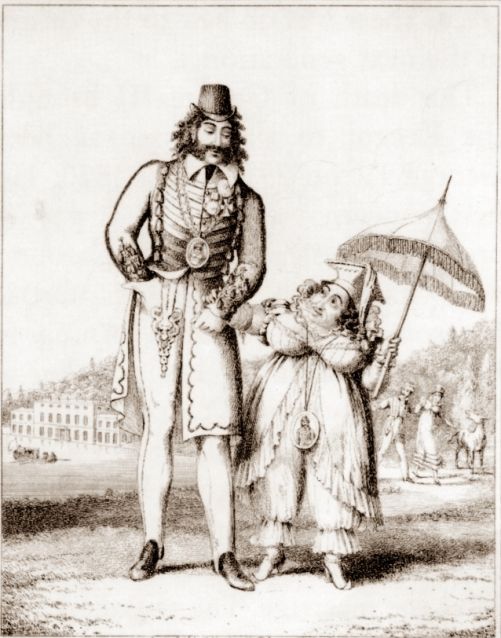 George Cruickshank - Pergami and Caroline
Ompteda also had problems with a young British naval lieutenant, called Hownam, who was so outraged at the behaviour of the spy, that he called him out, demanding that he fight a duel for daring to cast aspersions on the Princess's reputation. Ompteda's masters back in Hanover immediately recalled him home, but the reason given for him not providing Hownam with satisfaction was that the Baron could not be expected to fight so plebeian an opponent (which, to me, is reason enough for another gauntlet across the chops Herr Baron).
Tomorrow – Terrible scandals and awful behaviour