Saturday November 3rd 1849 saw the first publication of a remarkably unremarkable periodical (if you judge it by its appearance, rather than by its content). It was the product of a period that was divided by its passion for progress and innovation and its adoration and longing for a golden, bygone past. Just eighteen months later, the magnificent Crystal Palace showcased to the appreciative world all that was new, novel and exciting in the Victorian worlds of technology, innovation and industry.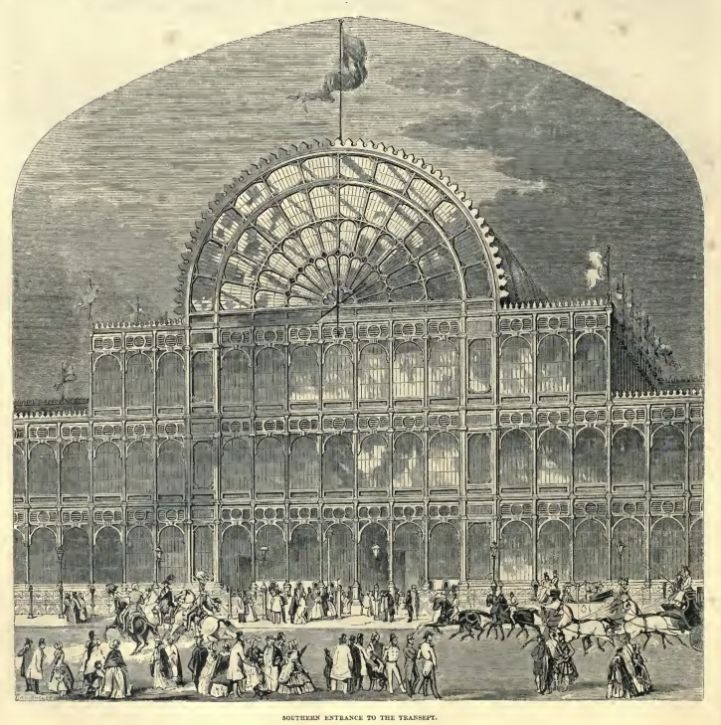 The Crystal Palace
But Notes and Queries had its gaze fixed firmly on the past, on an age of dusty, old books, almost forgotten arcana, strange customs and classical minutiae. It announced itself as a 'medium of inter-communication for literary men, artists, antiquaries, genealogists etc,' and for threepence a week, these gentlemen conducted their on-going conversations in a closely-printed, double columned paper that ignored the emerging advances in illustration and the current trend for fiction.
Notes and Queries - Vol 1 - 1849-50
The original idea for such a periodical had been discussed by William Thoms and John Bruce as early as 1841, but circumstance had intervened and delayed their plans for eight years. William John Thoms was a writer and antiquary who, for many years, had been a clerk in the treasury, and had been encouraged in his studies of history by Thomas Aymot, who introduced him to Francis Douce. Douce had an extensive private library in Gower Street and, in turn, had introduced Thoms to John Bruce, another antiquary who was one of the founders of the Camden Society, which was dedicated to the printing and circulation of early historical and literary works.
Notes and Queries - Typical Page Layout - 1856
Thoms became the secretary to the Camden Society in 1838 and, in the year, was elected as a fellow of the Society of Antiquaries, and in 1845 he became clerk and then Deputy Librarian to the House of Lords. His wide knowledge and easy conversational manner soon attracted many of the most learned members to the printed-paper office and Thoms made many useful acquaintances, giving him access to historical sources not normally available to an ordinary scholar. In 1846, Thoms persuaded Charles Wentworth Dilke, editor of the Athenaeum, to allow him to write articles about 'old-world manners, customs and popular superstitions'; his first appeared on August 26th under the title Folk-Lore, a word coined by Thoms and used by him for the first time in the article.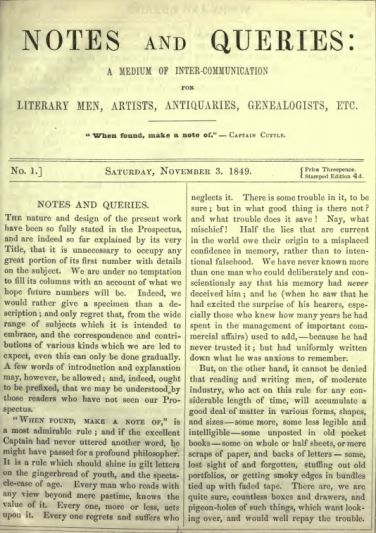 Notes and Queries - First edition - Page 1 - 1849
Thoms was concerned about the railway mania raging in the country at the time, fearing that these 'old-world' antiquities and landmarks would be trampled underfoot in the headlong dash towards modernity. Ironically, the spread of railway services allowed for Notes and Queries to be printed by mid-Fridays and distributed ready for sale throughout the country by the following morning. With Dilke's encouragement, Thoms revived the plan for his antiquarian periodical, and Notes and Queries was the result. From the first, it carried the motto 'When found, make a note of,' an axiom repeated by the character Captain Cuttle, in Dickens' novel Dombey and Son.
Captain Cuttle
It followed a simple pattern; the Notes were articles submitted by readers on any subject they felt might be of mutual interest to other subscribers, and the Queries were requests for information that were replied to by other readers, with the replies published in subsequent editions of the paper. In some cases, the answer was not much more than a sentence or two, whilst in other cases the replies ran, at length, through many issues, with some interesting (and amusing) examples of academic peevishness and umbrage very much in evidence.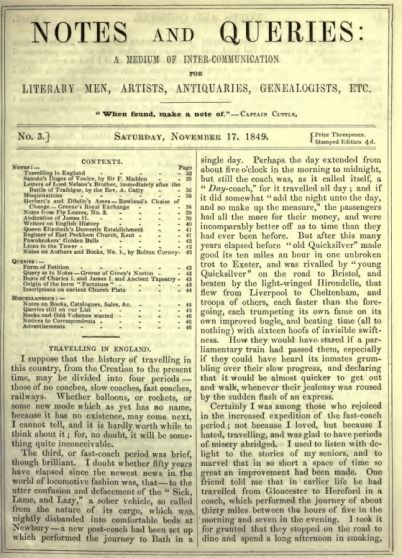 Notes and Queries No 3 - Typical page layout
As the title of Notes and Queries indicates, it was very much a 'medium of inter-communication', facilitated by the Uniform Penny Post introduced in Britain in 1840, whereby letters under ½ ounce in weight would be delivered anywhere in the country for one penny. From the outset, it was an absorbing mixture of incredibly dense academic learning and genuine amateur curiosity.
A Typical Contributor ?
Some of the leading scholars from Victorian universities were contributors (the linguist and etymologist Walter Skeat was a regular), as were such artists as Dante Gabriel Rossetti and authors like Charles Dickens, although, as many contributions were made pseudonymously, we will probably never know exactly who was involved. It was the same readership, and quite probably the same individuals, who participated in those other great collaborative ventures, the Dictionary of National Biography and the Oxford English Dictionary.
Notes and Queries - 1863
Ownership changed hands in 1863, when the subtitle was also changed to 'Literary Gentlemen, General Readers, etc', although the collaborative gallimaufry of obscurities and esotericism remained, thankfully, intact. Indeed, any move towards a more specialized, exclusive stance was resisted with an almost wilful contrariness, something that may have contributed to the term 'antiquary' becoming more and more used in a pejorative sense, and virtually synonymous with 'amateur' or 'dilettante'.
Snowed under by information
Some modern commentators have put this network of information-in and information-out forward as a kind of precursor of modern chatrooms, message boards and internet forums, where exactly the same mix of professional experts and amateur enthusiasts rub shoulders in discussions of their areas of interest. Notes and Queries continues to this day, with an online presence, although it has now shifted towards a much more specialised, academic journal.