Henry Peter Brougham really ought, as I intimated yesterday, be the recipient of our deepest admiration, a man whose face should be on the reverse of our banknotes, with statues of him raised in the city centres across the realm and songs written to his eternal glory. But there is a reason why these, and many other such panegyrics, have never come to pass – and that reason is that Henry Peter Brougham was one of those insufferable individuals who would make your fist hurt before you got tired of punching him in the face.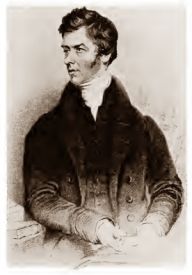 Henry Peter Brougham
He began his posterior-paining career early in life; as a schoolboy in Edinburgh, he argued over a point of Latinity with Luke Fraser, his schoolmaster, and was punished for his impudence. The following day, loaded down with Latin grammars, he confronted Fraser and forced him to admit his error before his pupils and declare that Brougham had been right all along.
As an adolescent, he prowled the streets of Edinburgh New Town at night with a gang of cronies from the Apollo Club, tearing brass knockers and bell handles from the front doors.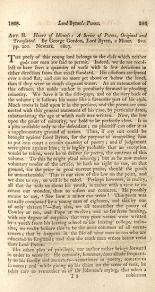 Brougham's Review of Hours of Idleness
Then, in 1802, at the age of twenty-four, he was among the founders of the Edinburgh Review, which went on to become one of the most influential of all literary magazines; Brougham contributed eighty articles to the first twenty issues, on a vast range of subjects.
Hours of Idleness - 1807
In 1809, Brougham wrote a review of Hours of Idleness, a collection of original poems and classical verse translations, written by, as the title page said, 'A Minor'. It is an unpleasant little piece, written anonymously, telling us that the poet's 'effusions' are 'flat', like 'stagnant water'; he lashes at the poet's admission of youth, has a swing at the Greek translations (the less said of Brougham's own 'translations', the better), and he helpfully

"… counsel him, that he forthwith abandon poetry." The poet, by the way, was one George Gordon, Lord Byron.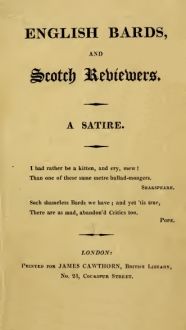 Lord Byron - English Bards and Scotch Reviewers
He responded with another poem, English Bards and Scotch Reviewers, in which, unbeknownst to him, he identified the guilty reviewer,
"Beware lest blundering Brougham spoil the sale,

Turn Beef to Bannocks, Cauliflowers to Kail."
In later life, Byron admitted to two hates in his life, Southey ('the apostate') and Brougham, ('that venomous reptile').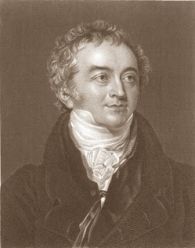 Thomas Young
Brougham also turned his gimlet eye on the world of science – another anonymous review by him set the world of optics back by a good decade when he panned Thomas Young's theory that light could take the form of a wave (Einstein, by the way, described Young as a 'genius'). In a like manner, Brougham, anonymously again, decried Herschel's correlation of the occurrence of sun-spots with the fluctuations in wheat prices, causing Herschel to withhold further papers on the subject, something which was later proved to be entirely valid.
Henry Brougham
Then Brougham left Scotland and headed for London, where he became a lawyer and a politician (two more good reasons for any right thinking person to suspect him as a wrong 'un). He distinguished himself as an orator, earning him respect and enemies in equal amount, together with a reputation for an unshakeable, single-minded confidence in his own abilities and opinions, right or wrong, and was known as one,
"… who meddled with everything, and was not at all deterred by difficulties from pushing his way to the front."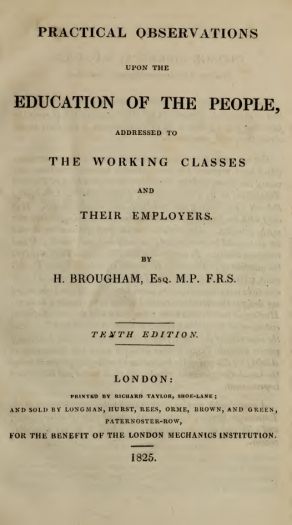 H Brougham - Practical Observations - 1825
In spite of his advocacy of education for the working- and middle-classes, he was opposed to the compulsory education of children, something he equated with the 'Prussian' system, and when he introduced his first Education Act to parliament, in 1820, he sought to limit the wages of schoolmasters to not less than £20 and not more than £30 (per year, that is), when, as a lawyer, he was pulling in £7,000 per year.
Caroline of Brunswick
Brougham's really big break came when he successfully defended Queen Caroline against allegations of adultery by her husband, King George IV. George was an unpopular King, whereas Caroline enjoyed tremendous popular support in England, and when George tried to press for a divorce, Caroline was largely perceived to be the injured party. Caroline's vindication made Brougham a household name overnight, and when the Duke of Wellington's Tory government fell, in 1830, it was inconceivable that Brougham could be left out of Lord Grey's Whig cabinet. He was offered the position of Attorney-General, which he refused, then the Lord Chancellorship, which he accepted, and in November, he was made Baron Brougham and Vaux.
Lord Brougham and Vaux
Power went to his head; he interfered in every government department, his egotism, foul temper and eccentricities alarmed everyone, including King William IV. On his way to Scotland for a visit, he stopped off in Lancaster, got drunk in the bar-mess, spent the night in an orgy and later, in a country house, he lost the Great Seal, only to find it again during a game of blind-man's buff!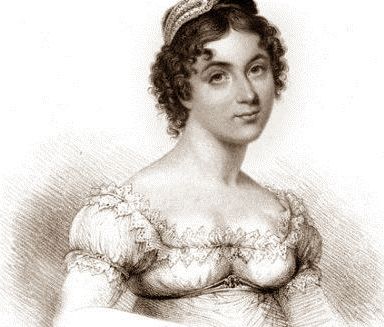 Harriette Wilson
When it became known that the notorious courtesan Harriette Wilson was about to publish her kiss-and-tell memoirs, Brougham was among those who paid her to have their names removed from it – the Duke of Wellington's reaction, in contrast, was to say, "Publish, and be damned." Brougham's antics eventually became too much even for his staunchest admirers and his political fall was as swift as his rise.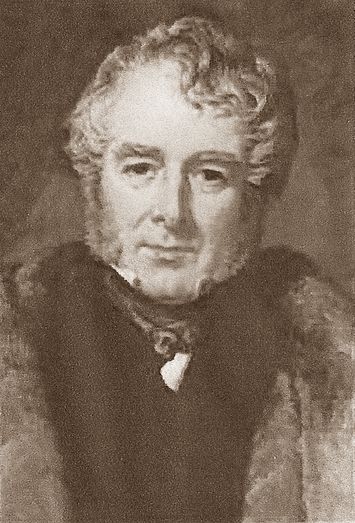 Lord Melbourne
In 1834, on his way home from dinner at Holland House, he called on Lord Melbourne, the Prime Minister, who confided to him that the King would dismiss his ministers the following day, and swore him to secrecy. In The Times the following morning, a paragraph revealed the news to the world, adding that 'the Queen had done it all'; Brougham, it was certain, was the cause of the leak, and it was the last act of his official life.
But he was not done with his shenanigans. On October 22nd 1839, a report appeared in The Globe that Brougham had died, after falling from his coach. The obituaries followed, in all but The Times, and it has to be said, not all of them were flattering. However, Brougham was still alive, and the suspicion spread that he had stage-managed the whole thing, to discover what his legacy would be and to ascertain his public standing. It backfired, if that was the case, as the consensus was that his had been '… a useless, worthless, and mischievous life.'
Adolphe Cremieux
In 1848, he decided that he would like to become a member of the French Republic and a naturalised Frenchman, and wrote to Adolphe Crémieux, Minister of Justice, to inform him of his intention. Crémieux replied, pointing out that if he followed this plan through, he would cease to be Lord Brougham and lose all the rights and privileges due to a former Lord Chancellor of England. Amidst howls of laughter on both sides of the Channel, Brougham abandoned his plan.
Lord Macaulay
To conclude, I give you two opinions of Brougham by those who knew him. Lord Macaulay, who was not entirely hostile toward him, wrote,
"Brougham does one thing well, two or three things indifferently, and a hundred things detestably. His Parliamentary speaking is admirable, his forensic speaking poor, his writings, at the very best, second-rate. As to his Hydrostatics, his Political Philosophy, his Equity Judgments, his Translations from the Greek, they are really below contempt."
Harriet Martineau
Harriet Martineau, on the other hand, has this to say about him,
"His swearing became so incessant, and the occasional indecency of his talk so insufferable, that I have seen even coquettes and adorers turn pale, and the lady of the house tell her husband that she could not undergo another dinner party with Lord Brougham for a guest. I, for my part, determined to decline quietly henceforth any small party where he was expected."
It sounds to me that Harriet would have quite enjoyed punching him until her fist hurt.