The Old Testament writers were inordinately fond of wandering. There are people wandering about all over the place. After Cain slays Abel, he wanders off to the east of Eden, until he comes to the Land of Nod where he eventually builds a city called Enoch, after his son, borne to him by his sister, Awan (if Adam and Eve were the only man and woman created by God, there was bound to be some unsavoury jiggery-pokery going on at some stage in the proceedings). The majority of the book of Exodus is taken up with assorted wanderings (as you might expect, given its name). King David does his own fair share of wandering hither and thither. And so on, and so on. If there is a wilderness to be found, it's an even money bet that there will be somebody wandering off into it.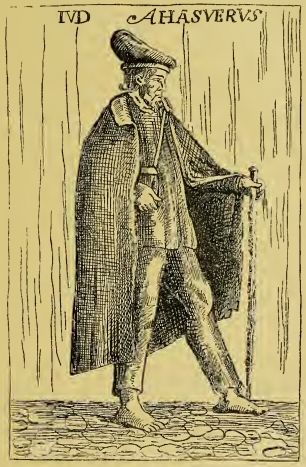 A Jew wandering
Given that Christian traditions form a sizeable slice of Western civilisation, it is no surprise that legends of wanderers also feature prominently in it. Joseph of Arimathea gave up his sepulchre for the body of Jesus and so had no resting place, thus he wandered, coming at last to Glastonbury. St James emerged from the rock that had encased his martyred body and wandered in Spain, where he led the Spanish against the Moorish invaders. St John did not rest in his tomb at Ephesus, he made pilgrimages instead, wandering to England where King Edward the Confessor gave him a golden ring. St Peter also wandered to England, where he presented the first abbot of Westminster with a miraculous fish. The Wandering Jew was in good company and not alone in his wanderings.
The Wandering Jew
It is unusual, in the light of the usual European anti-Semitic sentiments, that the Wandering Jew is usually well received and in many cases it is very unlucky to treat him badly. The general feeling appears to be that the poor man has already suffered enough with the terrible fate cursed upon him and deserves to be treated with sympathy and charity. In an article in Notes and Queries (December 29th 1855), it is related how, on a cold winter's night, a cry might be heard in the darkness,
"Water, good Christian! Water for the love of God."
Looking out, you would see an old, bearded ancient and you would be wise to supply him with a drink. He remembers kindnesses and will often return to pay back the deed when your need is at its greatest.
Gustave Dore - The Wandering Jew
A story from 1658 tells how an old man, Samuel Wallis of Stamford, who was suffering from a deep consumption and beyond the help of doctors, was reading one evening when he heard a knock on the door. Answering, he met a tall, bearded ancient who said,
"Friend, I pray thee, give an old pilgrim a cup of small beere."
The man was invited in and given a drink and when finished he said to Wallis that he seemed to him to be ill. Wallis explained his ailment and the ancient man told him which herbs he needed to pick and how to prepare them and that, if done, would cure him after twelve days. Wallis followed the instructions and recovered and went on to live for many more years. He had been visited, he said, the Wandering Jew.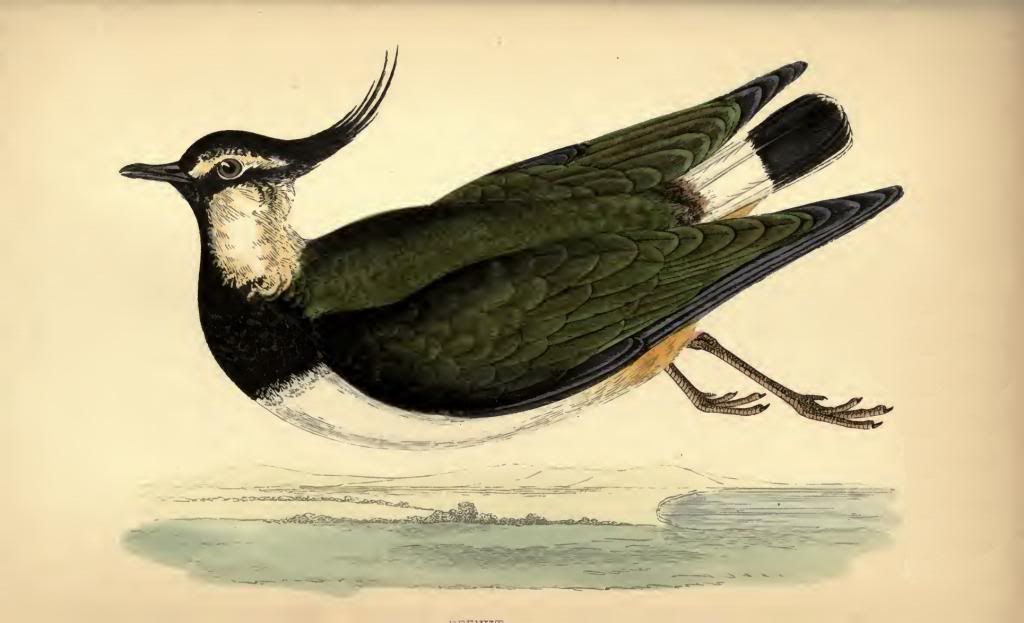 Green Plover
Another story from Notes and Queries (September 30th 1871) tells how a traveller met an old man on a Lancashire moor, who told him that a covey of plovers flying overhead were 'the whistlers or the wandering Jews'. Pressed for information, the man said that the plovers held the souls of those Jews who had assisted at the crucifixion and were doomed to fly forever, bringing bad luck to any that heard them. When the traveller returned to the road he found that he had missed the coach back to his lodgings and faced a walk of many miles; the old man was quick to remind him of the fate of those who heard the whistlers, (I have written more about this here).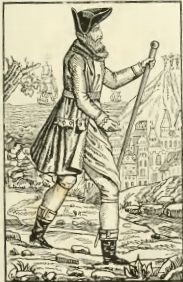 In 1799, William Godwin published St Leon, his second Gothic novel (a kind soul really ought to have advised him to call it a day after his first attempt), in which a feeble, emaciated and pale old stranger imparts the secret of eternal youth and bestows the philosopher's stone to the eponymous anti-hero. It may be that St Leon played a small part in inspiring Godwin's daughter's novel Frankenstein and this daughter, Mary, was later to marry Percy Bysshe Shelley, one of whose early works was a four-canto effort called The Wandering Jew, (the least said about which, the better).
George Croly - Tarry Thou Till I Come
In 1828, the Wandering Jew wanders into George Croly's Tarry Thou Till I Come, or Salathiel, the Wandering Jew, a truly awful doorstep of a book that attempts to place the Passion in an historically accurate setting and fails miserably as the enthusiastic zeal of the author to proselytise at every available opportunity collapses in a flurry of superfluous exclamation marks. It really is one of those dreadful, mawkish nineteenth century triple-deckers that shoehorns a moral into every incident, a message into every monologue and a metaphor into every other

blessed

thing – it's like the very worst of Thought for the Day with added schmaltz stirred in with the bendiest bough broken off the sentimentality bush.
Eugene Sue - The Wandering Jew - 1846
And the horror doesn't stop there, as the French got their paws in the pudding when Eugène Sue gave the world his Le Juif Errant (The Wandering Jew) between 1844 and 1845, in a modest ten volumes that some idiot or other saw fit to translate into English in a three-volume edition of 1846. Just to give you some idea, Sue was also responsible for Les Mystères de Peuple, parts of which were plagiarised by Maurice Joly as The Dialogue in Hell Between Machiavelli and Montesquieu elements of which were, in turn, plagiarised by the authors of The Protocols of the Elders of Zion.
Although proved to be a forgery in the 1920s, Hitler and his cronies eagerly seized upon the Protocols as a justification for their genocide of the Jews (and anyone else they imagined didn't deserve to continue living). And we all know what happened next.