Running parallel to, and lying between, High Holborn and Red Lion Square in London is Eagle Street. In 1815, Eagle Street was narrow, dark, dirty lane of cheap flophouses and cheaper shops. There was a bird-stuffer's establishment, a marine chandler's place, rag and bottle shops, vendors of tripe and cats' meat, broadsheet sellers offering farthing prints, shoddy sellers and tawdry merchants. At the end of July, in amongst this gloomy aggregation of penny-pinching poverty and grim grime, in the back room of number 14 Eagle Street, the parents of Elizabeth Fenning placed the executed body of their daughter, who had been hanged at Newgate Prison.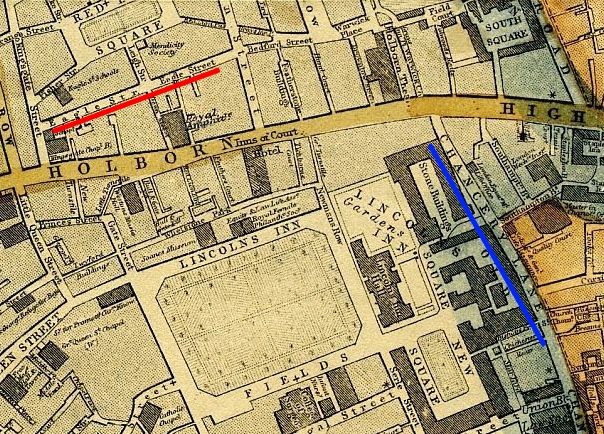 Eagle Street underlined in red
Her father, William, had been promised that the body would be returned to him after the execution but he was shocked when he was told that he would have to pay fourteen shillings and sixpence for the executioner's fees before the body would be released. He pawned the family furniture and clothes and borrowed the rest of the money to raise the amount he needed and when sympathisers and the curious descended on Eagle Street and began to leave unsolicited donations with the bereaved old soldier, the police intervened and stopped people from knocking on the house door.
On July 31st, the funeral procession left Eagle Street, surrounded by an enormous police presence, as eight mourners led by Elizabeth's parents and six maiden pallbearers clad in white walked slowly to St George the Martyr's burial ground. The streets were lined with people and 10,000 people attended the committal, and all without incident. The Observer newspaper raised a subscription from its readers for the benefit of the bereaved family. It was widely believed that Elizabeth Fenning was innocent and had been wrongly hanged.
Elizabeth Fenning
William Fenning had served abroad with the Suffolk regiment and his wife bore ten children, all of whom bar one had died in childhood. After completing his military service of almost twenty years, William moved to London and began a potato dealing business with his brother in Red Lion Square. His only remaining daughter, Elizabeth, entered domestic service when she was fourteen years old, and in late January 1815, at the age of twenty-one she obtained the position of cook to Mr Robert Gregson Turner and his wife, Charlotte, at 68, Chancery Lane.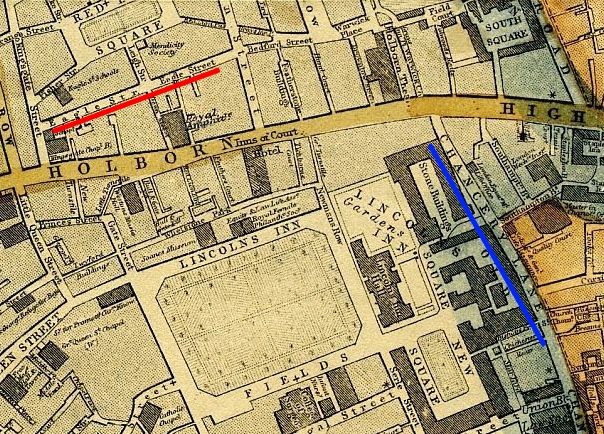 Chancery Lane underlined in blue
The house belonged to Orlibar Turner, a law-stationer and father of Robert, who lived at Lambeth and who came to dinner on March 21st. They dined on beefsteak pie, potatoes and yeast dumplings, and soon after eating all three Turners became violently ill, vomiting and suffering chest and stomach pains. Fenning had made yeast dumplings on the day before, which had been white, fluffy and delicious but the dumplings she made on the next day were heavy and dark coloured.
One of two teenaged apprentices who lived in the household, Roger Gadsden, went into the kitchen and ate a piece of a dumpling about the size of a walnut together with some gravy that he mopped up with bread, and soon after he fell ill too. Elizabeth Fenning also ate some of the meal, and when Doctor John Marshall, who had been sent for, arrived at the house, he found her collapsed and vomiting on the staircase. The other apprentice, Thomas King, and Sarah Peer, a maidservant, had dined earlier and did not become sick; they had eaten some of the pie but not the dumplings.
Orlibar Turner and Dr Marshall suspected poison, and an examination of a serving dish revealed some white residue in the bottom which, when tested, was shown to be arsenic. Turner kept a quantity of arsenic in a drawer in the house, which was used to kill mice that damaged the parchments and legal papers he kept in store, and it was found to be missing. Marshall tested the remains of the dumplings and they were laced with arsenic and so Fenning, who had made them, was arrested and charged with attempted murder.
At the trial, Mrs Turner gave evidence that she had admonished Fenning for going 'partly undressed' into the apprentices' bedroom and afterwards the girl had been sullen and disrespectful. It was stated that the arsenic powder, kept in a paper and marked ARSENICK DEADLY POISON in large letters, had been seen on March 7th but had then gone missing, it was kept in a drawer that was left unlocked during the day, and that Fenning would take paper from this drawer with which to light the fires.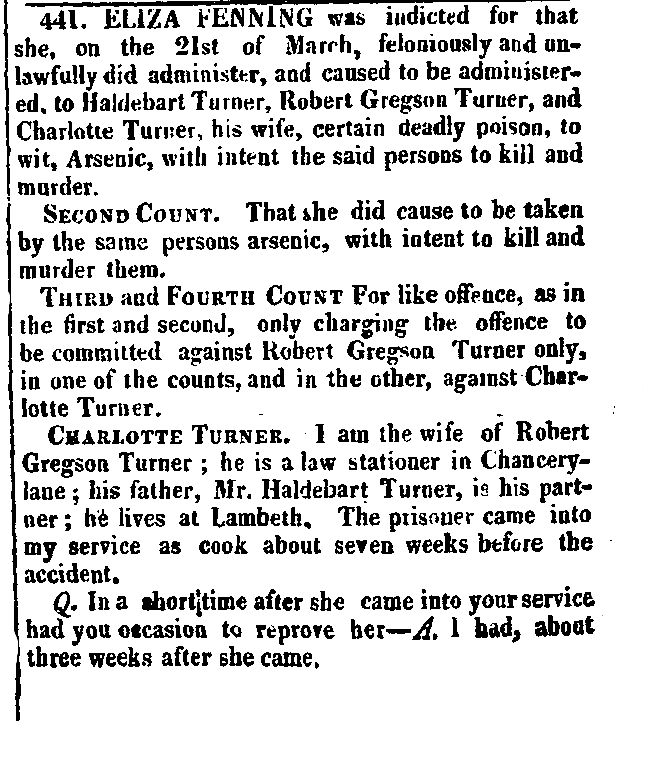 Trial of Elizabeth Fenning - Old Bailey Proceedings
When called to the stand, Fenning gave a different version of events; she had gone into the apprentices' room to get a candle and Gadsden had taken a 'liberty' with her, which accounted for the state of undress that her mistress had seen. She did not take paper from the drawer herself but always asked Thomas King for paper with which to light the fires but the recorder of the court would not allow King to give evidence to support her claim. The recorder also disallowed character statements from some witnesses and refused to allow her father to speak in court. There were a number of other anomalies and inconsistencies during and after the trial, which make this a particularly interesting case and I'll look at these in more detail tomorrow.